Oct 19 2023
Coppin State University Celebrates Grand Opening of New College of Business Building, Hosts Wealth Gap Summit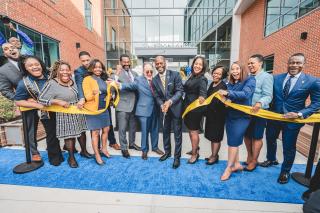 BALTIMORE – Coppin State University today held a ribbon cutting to celebrate the opening of its new $45.8 million College of Business building along West North Avenue. The 62,000 square foot College of Business is targeting LEED Silver certification, reflecting Coppin State's commitment to environmental sustainability. The College of Business is the first new building to open at Coppin State since 2015, and features state-of the art classrooms and a modern design that will help enhance student learning. Classroom spaces include executive conference rooms, consumer education and small business resource centers, an entertainment production studio, and entertainment industry laboratory. 
"Today's grand opening is part of a new chapter of transformation and renewal at Coppin State University and in West Baltimore. We continue building upon the strong foundation laid in 1900, by giving students 21st century facilities that match the quality of their 21st century education," said Coppin State University President Anthony L. Jenkins "As an anchor institution, Coppin State is committed to moving our global economy forward and fostering economic and social mobility, by helping our future leaders, entrepreneurs, and resilient change agents realize their full potential, through education, real-world experiences, and relationships with partners like the Charles Schwab Foundation and Schwab Advisor Services."
Coppin State University College of Business
The newest addition to Coppin State's 65-acre campus stands at Warwick and West North Avenue, the site of the former Percy Julian Science Building and will support a variety of new undergraduate and graduate programs designed to spark student curiosity and creativity, while equipping them with the needs of employers, and the entrepreneurial environment.
"The new College of Business building will allow us to better deliver on our core purpose of teaching, developing solutions through transdisciplinary research, and service to our community," said Sadie R. Gregory, dean of the Coppin State University College of Business. "Throughout the building, there's a high level of support for student engagement and we look forward continued growth, innovation and collaboration between our students, faculty, staff, and business partners."
The College of Business is home to the Center for Strategic Entrepreneurship, which engages Coppin State students, faculty, staff, and the greater community in innovative research, hands-on training, and entrepreneurial pursuits.
The building will also house the School of Graduate Studies, which offers 14 master's and doctoral degree programs, as well as 15 post-baccalaureate and post-master's degree certificates covering various disciplines.
The College of Business building was designed in collaboration with Baltimore-based architecture firm Quinn Evans, as well as Boston architecture firm, Goody Clancy, and construction led by Barton Malow. 
"Over the past decade, our enduring partnership with Coppin State University has been a source of inspiration, fostering mutual trust and collaboration," said Joe Cellucci, AIA of Quinn Evans. "Today, we celebrate the completion of the College of Business, our most recent collaborative effort to transform an underutilized campus building into a dynamic learning environment that advances the University's unique vision and identity." 
"With this building, Coppin State continues to embrace and uplift its West Baltimore community," said Victor Ortale, the project's Design Principal and leader of Goody Clancy's Business School Practice. "I am impressed not only by how they open the building physically with programs for the neighborhood, but also by the innovations and services they offer their students to ensure student success."
 
Closing the Wealth Gap Summit
After the College of Business grand opening and ribbon cutting ceremony, attendees celebrated the launch of the inaugural Closing the Wealth Gap Summit at Coppin State University, which is designed to promote financial literacy and wealth-building strategies that can empower and elevate underrepresented and under resourced communities. 
"We are looking for ambassadors to help to knock down barriers and educate students on the opportunities that are out there with careers in financial planning. Coppin State is a great ambassador because they are focused on diversity beyond the four walls of their institution and are focused on impact in their community," said Lisa Salvi, Managing Director and Head of Business Consulting and Education for Schwab Advisor Services. "We are grateful to join in its mission to help students explore careers in financial services, particularly the Registered Investment Advisor industry, which is all about people serving people. The future of financial services is wholly dependent on young professionals entering the space and reflecting the diversity of tomorrow's investors."
During the summit, representatives from Coppin State, the Charles Schwab Foundation, and Schwab Advisor Services cut the ribbon on the Charles Schwab Community Wealth Center, which will serve as a hub for students seeking to sharpen their skills in finance. The Charles Schwab Community Wealth center will host immersive workshops, trainings, and roundtable discussions for students, alumni, and greater community, focused on financial literacy and financial planning to address the wealth gap. 
"Coppin's partnership with Schwab Foundation and Advisory Services is a game-changer for Eagle Nation. As we cut the ribbon to our state-of-the-art College of Business, this becomes the gateway to economic empowerment for our students and the community," said Joshua E. Humbert, vice president for Institutional Advancement and Executive Director of the CSU Development Foundation. "Together, we envision a future where every member of Eagle Nation has many opportunities to thrive and build lasting wealth in an inclusive and equitable world. We invite everyone to join us in this exciting journey towards a brighter, more prosperous, shared future."
The Wealth Gap Summit and Charles Schwab Community Wealth Center are a continuation of an established partnership between Coppin State University and the Charles Schwab Foundation. Charles Schwab supports the Minority Registered Investment Advisor Mentorship Program, which introduces Coppin State students to courses of study compatible with a career in financial services, and pairs them with mentors working in the financial industry.