Oct 13 2021
BGE Scholars Program Establishes Scholarships with Coppin State University.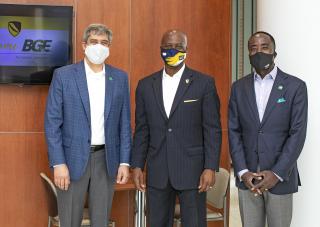 BGE announced, last week, partnerships with Coppin State University, Bowie State University, and Morgan State University to award scholarships to full-time STEM majors from its communities. Each school will receive grant funding of $200,000 in 2021 to provide funding for $10,000 scholarships to 15 "BGE Scholars."
"These scholarships are a critical tool to help students complete their studies affordably. By helping remove barriers to success, we hope that these talented individuals will have an opportunity to fulfill their full potential," said BGE president and CEO Carim Khouzami. "In addition to the scholarships, we are also committed to building deeper relationships with the students through summer internships, providing mentors, and job shadowing opportunities. These career exposing activities will help students to gain a better appreciation of how their studies can translate into a career."
BGE and the universities will also work to build their partnerships beyond financial support to help advance diversity, equity, and inclusion in Maryland.
To be eligible for the scholarships, students must be a Maryland resident, maintain a minimum 2.8 GPA, major in a STEM field, and demonstrate financial need.
"We are excited about this partnership with BGE, as we've realized our shared goal in creating greater access to higher education for underserved students in our communities. These scholarships will help students realize the extent of their potential and transform their lives," said Coppin president, Dr. Anthony L. Jenkins.
An additional $50,000 will be used to fund persistence grants at each school, and is available to any student to cover costs that might interfere with a student's ability to continue college, such as text books.
"BGE recognizes the role that HBCUs play as anchor institutions and in creating opportunity for economic equity and mobility, leading and supporting community development efforts, and supporting students experiencing systematic and generational marginalization," said Rodney Oddoye, BGE's senior vice president of governmental and external affairs. "Because of this, BGE has deepened our focus on supporting our region's HBCUs which are uniquely positioned to directly and dramatically impact communities of color."
BGE's partnership with local HBCUs is aligned with Exelon's broader effort to support HBCUs via a partnership with the United Negro College Fund.
Story by Brene Carrington