Jun 29 2023
PHOTO RELEASE: West North Avenue Development Authority Announces $11 Million for Major Funding for Redevelopment in West Baltimore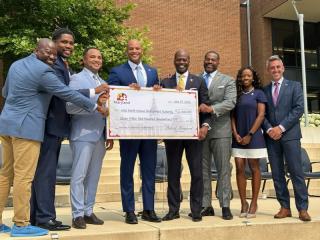 BALTIMORE – Governor Wes Moore, State Senator Antonio Hayes (D-Baltimore City, District 40), and Delegate Marlon Amprey (D-Baltimore City, District 40) announced $11.4 million in state funds to the West North Avenue Development Authority, to support revitalization efforts in West Baltimore. They were joined by WNADA Chair, Coppin State University President, Anthony L. Jenkins, WNADA Executive Director, Chad Williams, and Secretary of Housing & Community Development, Jacob R. Day.
"I believe in West Baltimore and the West North Avenue Development Authority – that's why I worked with the General Assembly to secure over $11 million in this year's budget for this important partnership between state government and the community," said Governor Moore. "It takes real partnership to get something like this done — and I know that this funding is going to help revitalize communities, help renew a sense of possibility in these neighborhoods; and help write a new chapter in the story of our state."
WNADA, chaired by the President of Coppin State University, brings together state, local, and community partners to support the development and approval a comprehensive neighborhood revitalization strategy for the West North Avenue Corridor. 
WNADA plans to award $10 Million in grants to organizations planning redevelopment projects and initiatives along West North Avenue Corridor, between Coppin State and Maryland Institute College of Art (MICA) that benefit current and potential residents, housing, neighborhoods, transportation, and economic development for communities inside of the target area and buffer zone.
"At the outset, I want to thank Governor Moore, for his unwavering support as well as Senator Hayes, and Delegate Amprey for their leadership and vision to establish the WNADA. Coppin State University, as an anchor institution for Baltimore, and a leader in urban higher education is the first HBCU in our nation to lead the revitalization of a major US city," said President Jenkins. "This renaissance of Baltimore, is profoundly important and long overdue and through meaningful partnerships and well thought out strategic planning, we will improve the human condition and transform this community."
WNADA advises Maryland and Baltimore agencies on planning and development for the West North Avenue corridor, including development opportunities and challenges. WNADA has also analyzed a dozen existing development plans from local organizations to create an integrated plan that aligns with the authority's priorities related to housing, economic development, and transportation.
"We will revitalize historic communities along the West North Avenue Corridor so residents and businesses can thrive in an environmentally friendly area with economic equity, various housing options, reliable public transportation access, and neighborhood improvements, without displacement", said Williams. "The Authority will fund development of diverse entertainment, commercial, and recreation with light industrial manufacturing and retail as a "Made in Baltimore" tourist walkable destination safe site that creates living wage jobs for residents.
Since its inception, WNADA has hosted several community forums and connected with more than a dozen community associations across West Baltimore to gain a better understanding of the needs and wants of people living in the area.
WNADA will open grant applications later this year. Updates can be found at www.wnada.org