Office of Housing
Move-In Weekend
Mon - Fri: 9:00 am - 5:00 pm
Welcome to Coppin State University
We're so excited to welcome you to our beautiful campus. Hopefully, you've been able to prepare for today—the day you move into your new campus home! 
Fall 2022 Move-In
Housing move-in will occur over two days. New & Returning students should adhere to the move-in schedule below. Please also check your Coppin State University email for specific details regarding your individual move-in instructions:
New Student Move-in: Thursday, August 25, 2022
Students who are new to living on campus will move in at the following times:
| Building | Floors | Move in time |
| --- | --- | --- |
| Daley Hall | Floors 2, 4, & 6 | 8:00 - 11:30 AM |
| Daley Hall | Floors 3, 5, & 7 | 12:30 - 3:00 PM |
| Dedmond Hall | All Floors | 8:00 - 11:30 AM |
Returning Student Move-in: Friday, August 26, 2022
Students who have lived on campus before and are returning to the halls will move in at the following times:
| building | floors | time |
| --- | --- | --- |
| Dedmond Hall | Floors 1, 3, & 5 | 8:00 - 11:30 AM |
| Dedmond Hall | Floors 2, 4, & 6 | 12:30 - 3:00 PM |
| Daley Hall | All Floors | 8:00 - 11:30 AM |
What Not To Bring
Live pets(except fish)
Microwaves
Hot plates
Hot pots
Coffee makers
Keurigs
illegal items
Weapons of any kind
Drugs and drug paraphernalia 
Halogen
Lamps
Candles
Candle warmers
Incense gasoline
Flammable materials 
Space heaters of any kind
Separate AC units
Large furniture of any kind
Electric Kettle
Hoverboards or Electric scooters
What to Bring
Your residence hall is your home for the entire academic year. Be sure to bring supplies you need to thrive. 
Twin XL sheets
Alarm clock
Laptop or desktop computer
Clothes and hangers
Pillows
Desk lamp
Command strips
UL-approved extension cords
Television*
ROKU or ROKU enabled device*
Game console(s)
Decorative items
* Cable is powered by XFINITY On Campus - a digital cable experience. The cable can be streamed on your computer, laptop, phone, tablet, or TV. Learn more at the XFINITY website. 
Shower shoes
Shower caddy (to hold your shower and personal items)
Makeup mirrors
Floor mats
Cleaning supplies
Trashcan
Hair dryer
Laundry supplies (i.e. detergent, dryer sheets, etc.) 
Medication(s)
Lotion(s)
Deodorant
Shampoo and conditioner
Feminine hygiene products (i.e. menstrual cups, tampons, maxipads, etc.)
Dental hygiene products (i.e. toothbrush, toothpaste, mouthwash, floss, etc.)
Wash cloths and towels
Toilet paper
Students are responsible for the cleaning and upkeep of their room, suite, and bathroom. Suggested cleaning supplies include:
Broom
Swiffer
Cleaning wipes
Toilet bowl cleaner
Toilet brush
Disinfectant spray
Multipurpose cleaning spray
Refrigerator (no more than 3.6 cubic feet)
Class Registration
To live on campus, each resident must be a registered full-time for at least 12 credits. We've housed a lot of students, so we suggest registering for at least 15 credits to stay on track to graduation. On move-in day, students not registered for a full-time schedule will not be able to pick up their keys.
Contact First Year Experience for help registering for classes. 
Vaccination Records
The state of Maryland requires all residential students at Maryland colleges and universities to provide proof of Meningitis vaccinations or a waiver declining that vaccine. Coppin State University also requires the Hepatitis B vaccination for residence on campus. You must provide proof and clearance of Hepatitis B vaccination as well as proof of your clearance, or waiver declining Meningitis a week before August 12, 2022 in order to move on campus. COVID -19 Vaccination & Exemptions Per the University System of Maryland (USM) mandate, all students looking to live or take classes on campus, must provide proof of COVID-19 vaccination.
All students must submit their proof of COVID-19 vaccination to healthcenter@coppin.edu. Students who wish to apply for an exemption from the vaccine mandate should reach out to the designated offices below. Request forms for medical and religious exemptions are now available online.
Student Medical Exemption Request - Call: 410-951-4188 Email: healthcenter@coppin.edu Online: www.coppin.edu/coronavirus 
Student Religious Exemption Request Call 410-951-3593 Email:sjordan@coppin.edu Online: www.coppin.edu/coronavirus 
Student Accounts and Billing
Pay your fall 2022tuition and fees, including room and board by Friday, August 12, 2022. You must pay in full or set up a payment plan by this date or you risk Coppin canceling your classes and room assignment.
Students with unpaid balances must provide proof of enrollment in the university payment plan in order to receive a key at move-in.
Reach out to Bursar/Student Accounts with any questions at (410) 951-3677.
Moving Carts
We recommend students and families bring personal dollies and carts to help with your move-in. Coppin has a limited number of carts available for use.
Parking and Driving Directions
 Move-in parking is available on lots E, F, and J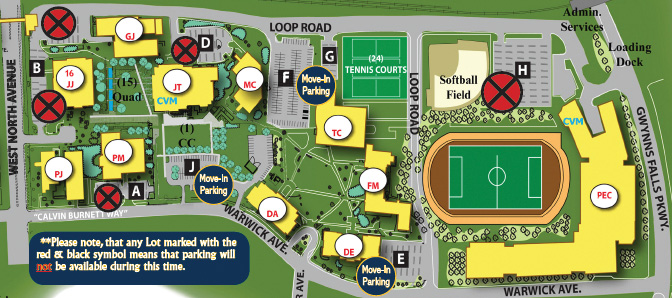 Driving Directions
2500 W. North Avenue
Baltimore, Maryland 21216-3698
From the North
Take I-95 South to Baltimore Beltway I-695 West
Follow I-695 West to Exit 23 (Rt. 83 South)
Take I-83 South to Exit 6 (North Avenue)
Turn Right and go to 2500 West North Avenue
From the South
Take I-95 North to Baltimore Exit 50 (North Caton Ave.)
Please note that Caton Ave. turns into Hilton St, then Hilton Pkwy, then Hilton St again
Turn right on North Avenue from Hilton St
Follow for a few blocks to 2500 West North Avenue
From the East
Take US Rt 40 West (Pulaski Hwy) to North Fulton St
Pulaski Hwy turns into Fayette St
Turn right on North Fulton St and follow to North Avenue.
Turn left on North Avenue and go to the 2500 West Block
From the West
Take I-70 East to I-695 South and follow to Exit 15 (Rt 40 East).
From Rt 40, turn right onto Hilton Parkway-Hilton Parkway eventually turns into Hilton St.
Turn right on North Avenue and follow to the 2500 West Block