Department of Humanities
Dance Program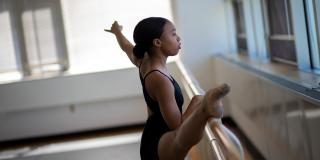 We prepare our students for careers in dance through scholarly inquiry, performance opportunities, and the engagement of their own choreographic projects. Students are introduced to a wide range of movement and choreographic practices as well as scholarly inquiries in dance. 
Physical Education Complex, Room 211
We focus on dance as culture, exploring the intersection of history, identity, and how movement can inspire and inform.
Welcome to the Dance Program! Our dance major focuses on the art as culture through dance performance and education. Looking at dance as a culture allows us to offer a high level of technical training in ballet, modern, jazz, and African-based dance forms.  
Our focus on performance allows dancers to master performance and production proficiency. The focus on education encourages students to share the art of dance through teaching. Always evolving, dance reflects changes happening in modern society, bringing dance technology to the forefront. 
Check out available dance scholarships!
Frequently Asked Questions (FAQs)
Have questions about our Dance Program? Someone has probably already asked us! Check out what prospective students are most curious about, and if you still have questions after reviewing, reach out to us!  
While you do have to be admitted before you can register for courses, you don't have to wait until you're admitted to chat with the dance director! You are welcome to schedule a conversation anytime during your application or admission process to chat about your career goals, program criteria, or other related topics.
At the beginning of the semester, each instructor communicates with students about any required attire for courses.
Yes! A master drummer accompanies our modern and African dance classes. 
Yes! We are the proud home of the Coppin State University Dance Ensemble. Auditions are open at the start of every semester. To be eligible to join, be sure you're registered for at least 1 dance technique course.
The Dance Ensemble sponsors masterclasses and workshops throughout the year, and an artists-in-residence program for visiting artists working in dance and technology.