Physical Education Complex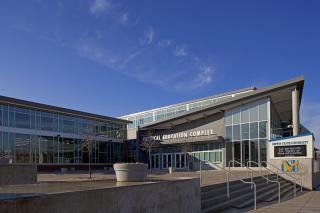 General Info
The Physical Education Complex (PEC) was completed in Spring 2010. It has comprehensive indoor and outdoor facilities and was built to support academic programs and the University's overall community outreach mission. It has become a valued student-faculty and community resource that also contributes to economic development and quality of life for West Baltimore residents.
Indoor Building Features
Classrooms
Laboratories
Auxiliary gyms
Faculty and staff offices
Dance studios
Racquetball courts
Weight training/fitness center
Basketball arena
Swimming pool
Outdoor Building Features
Outdoor track
Multipurpose soccer field
Tennis courts
Softball field
Parking spaces
Roadwork expanse
New campus entrance on Gwynns Falls Parkway.
It also contains a Satellite Central Utility Plant (SCUP), maintenance work shops, campus security operations, office areas, centralized mail and duplicating services, central receiving, and spaces for vehicle maintenance. 
Address
2500 W North Ave
Baltimore, MD 21216