Information Technology Security
Cybersecurity Awareness Month
Mon-Fri 9:00 am - 5:00 pm
Science and Technology Center, Room 430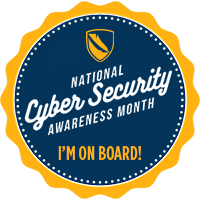 I am on board; we are all taking part in becoming more cybersecurity aware at CSU.

 
Good cybersecurity practices are the responsibility of the entire CSU Community.
At Coppin State University, Cybersecurity awareness is becoming more and more part of what we do.
The Information Security Program uses the COBIT framework, and places emphasis on the following behaviors for the CSU Community to come on-board and grow in our cybersecurity awareness.
1. Information security and good cybersecurity awareness are practiced in daily operations.
Strong passwords are used and not shared with others.
Passwords used for social networks like Facebook, Twitter, TikTok and Linkedln are not used for my CSU account.
Attention is given not to click links in emails sent from individuals I do not know as, they may be a phishing.
Laptops and computers are locked, when we step away from our respective work areas.
Careful attention is paid to websites visited and downloads so as not to bring harm to the CSU network.
Sensitive information electronic and manual is properly stored and maintained in secured areas.
Mobile devices are password secured and kept current on security patches.
2. Coppin State University personnel respect the importance of information security and cyber policies and procedures.
Student, Faculty and Staff security policies are on the CSU website.
3. People are provided with sufficient, detailed information security guidance and are encouraged to participate in and challenge the current information security situation.
Monthly Security awareness emails are shared with the CSU Community.
Security Alerts are shared with the CSU Community.
Ad-hoc communications are shared with the CSU Community to provide guidance on Information Security topics as needed.
4. Everyone is accountable for the protection of information within Coppin State University.
5. Stakeholders are aware of how to respond to threats to Coppin State University.
At CSU, suspicious emails are reported to suspect@coppin.edu.
At CSU, when in doubt, the OIT Helpdesk is contacted.
At CSU, testing is performed with various stakeholders, to prepare for responding to a threat.
6. Management proactively supports and anticipates new information security innovations and communicates this to the organization. CSU is receptive to account for and deal with new information security challenges.
New security innovations, for example Multi-Factor Authentication, are shared with the CSU Community to allow users time to adapt to the use of new software and a more secured way of doing things.
7. Business management engages in continuous communication to allow for an efficient and effective Information Security Program.
The IT Security Committee, which is composed of members from various areas of CSU, is one of the platforms used to communicate regarding the Information Security Program.
The IT Security Committee allows for information sharing on emerging risks and other topics with CSU Business Management that help enhance the overall Information Security Program and maintain awareness communication.