Office of Admissions
I-20 Certificate of Eligibility Requirements
Mon-Thu: 8:00 am - 5:00 pm
Fri: 8:00 am - 3:00 pm
Miles Connor Bldg. 1st Floor
Requirements for admitted students with pending I-20 eligibility
Sometimes a student may be admitted to Coppin State University before the student is issued a Certificate of Eligibility (also know as an I-20). When this happens, a student must submit the following:
Affidavit of Financial Support Form (I-134)
This form (I-134) can be downloaded from the United States Citizenship and Immigrations Services website. The admitted applicant is required to provide to the campus official financial bank statements verifying that more than $27,000 (room, board, mandatory fees and tuition) is available annually. Bank statements should be no more than 2 months old from the date it is submitted. Admitted international students should be prepared to pay all of their expenses for a minimum of one year prior to receiving an I-20. The University does not provide financial assistance for international students.
Immigration Transfer Recommendation Form
Applicants who have been accepted for admission will receive the Certificate of Eligibility (Form I-20). It is also used for transferring from one institution in the United States to another. If the student has attended another U.S. institution, copy of all I-20s from previously attended schools must accompany a completed Immigration Transfer Recommendation Form from the last attended institution. All immigration documents issued by the U.S. Department of Immigration and Customs Enforcement (USCIS) must be presented.
Additional immigration information
Once the international admissions process is complete, an acceptance packet is mailed that includes your acceptance letter, the I-20 Form (for F Visa) and other enrollment related information. After receiving the I-20 Form, you will need to pay the SEVIS I-901 fee. Be sure to print and keep a receipt. You must obtain your student visa from the U.S. embassy/consulate. The websites have directions for the visa application process, including how to make an appointment for your visa interview.
At the earliest opportunity, each admitted international student should notify the Office of Admissions of his/her new local or mailing address. Upon arrival to the campus, students must present their F-1 Visa to the Office of Admissions. All international students are required enroll as full-time degree candidates (minimum 12 credit hours per semester). In order to proceed with enrollment, students must report to the Office of International Programs periodically during each semester for status updates and verification of class attendance.
Immigration regulations prohibit persons on student visas from accepting paid employment during their first year in the United States and grant only limited relief for "unforeseen changes in financial circumstances."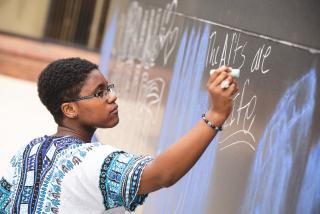 Quick links for admitted international students
Resources that help make your transition stateside as smooth as possible.