Mon - Fri: 8:00 am - 5:00 pm
We are the Coppin State University office that handles and oversees the services that help our campus run smoothly. Each unit focuses on delivering the goods and services that enhance our campus, and the quality of student life. We are student and customer-driven, and stay committed to meeting the needs of all our internal and external Coppin customers.

There are multiple offices within Business Services:
Convenience Store
Vending Services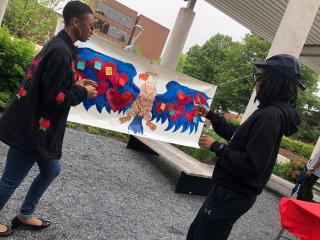 Convenience Store
Feeling snacky? Thirsty? Need a new pen before your next class? Stop by the campus Convenience Store! Why leave campus, when we have everything you need right here.

Visit us in the Talon Center:
Mon - Sun: 6:00 pm - Midnight
(410) 951-6386
Frequently Asked Questions (FAQs)
Have questions? We've got answers! Each unit of Business Services provides different goods and services. This guide tells you what each department handles, and the types of questions they can answer.
We can answer questions about:
Licensing and trademark requirements
Lost money in vending machine
Out-of-stock vending machines
Vending locations
We can answer questions about:
Graduation regalia (i.e. caps, gowns, hoods, etc.)
Announcements and class rings
Textbook buyback
Textbooks and school supplies
Merchandise returns
We can answer questions about:
Adding money to an Eagle Card
Bookstore balance
Bookstore vouchers
Declining balance
Student ID card
Lost, stolen or damaged ID card
Transferring funds
We can answer questions about:
Requesting audio and/or visual services
Renting a campus venue
Booking off-season housing for a conference
Planning an event
Coppin partners with Pepsi and Canteen to provide vending machines across campus. The Office of Auxiliary Services manages all vending machines, and keeps them stocked with snacks, hot and cold beverages, and ice cream.
We also handle questions about vending machine malfunctions and refunds.
If you have a refund request:
Make your request in person
Complete a vending refund form
Know you are limited to no more than 3 refunds per year