College of Health Professions
School of Allied Health
We advance our University mission to develop leaders, increase qualified healthcare professionals and scientists in the field, and promote healthy communities. We work collaboratively toward our mission while also strengthening relationships with local, national, and global partners.
Mon-Fri 8:30 am - 5:00 pm
Health and Human Services Bldg., Room 125
School of Allied Health
Welcome to the School of Allied Health in the College of Health Professions (CHP)! Created to meet the growing need for health information professionals, we are the State of Maryland's only higher education institution to offer an accredited 4-year degree program in Health Information Management (HIM). For students interested in community engagement, our Health Sciences major prepares health education practitioners to be resources that bridge health disparity gaps across communities.
With dedicated faculty, small classes, and state-of-the-art technology and facilities, the School of Allied health has created a student and career-driven learning environment. We are proud the majority of our graduates are ready to enter chosen fields immediately after graduation—often with job offers before the end of their final Coppin semester. It's just one more way we are meeting our students' career needs and our country's need for outstanding health care professionals.
Check out our satellite campus in Hagerstown!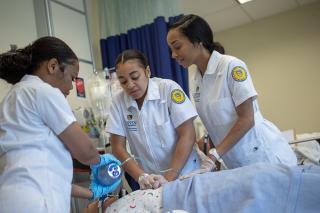 Simulation (SIM) Labs
Each simulation laboratory is fully equipped with functioning equipment simulating medical-surgical, pediatric, maternal-child, and community health settings.
Contact Us
Are you a prospective or current student with a question about the School of Allied Health or one of our programs? Reach out to us!