Army ROTC
Annual ROTC Activities
Mon - Fri: 9:00 am - 5:00 pm
Annual Activities
During the year the Army ROTC has events and get-togethers.
Military Ball
The Military Ball is an annual Cadet activity. The Ball is a formal event for Cadets, cadre, alumni, family, and other prestigious guests. It is an exciting event which offers Cadets an opportunity to "dress-up" and meet potential mentors. Each year, a previous commissioning class is invited, four alumni are inducted in the ROTC Hall of Fame, and Ms. ROTC is crowned. Some past guest speakers have been Major General (RET.) Prather (1996) and General Johnnie Wilson (1997). The Military Ball is an annual spring semester event that is held on campus.
ROCKS, Inc
The ROCKS, Inc. was named in honor of General Roscoe C. Cartwright, one of the original founders of the organization. The ROCKS, Inc. membership is open to active duty, retired, reserved and former officers from all the uniformed services. Over the years, it has contributed to strengthening the Army's Officer corps professionalism and to building a stronger, culturally diverse force. ROCKS programs include encouraging and rewarding outstanding Army ROTC Cadets, establishing liaison with Professors of Military Science at Historically Black Colleges and Universities, and assisting with precommissioning orientations through it leadership outreach program. The ROCKS, Inc. Morgan/Coppin Team conducts assistance visits every year and provide other support as requested.
Awards Ceremony
Recruiting and retaining quality young men and women in the "Bear Battalion" is a primary objective of the MSU/CSU ROTC department. The Awards program was established so as to recognize those students whose performance and academic achievement has set them apart from their contemporaries. Currently, the "Bear Battalion" conducts three Awards ceremonies per school year. The September Awards ceremony serves several purposes. It stands as a welcome back ceremony to upper level Cadets, official welcome to freshman Cadets, and a thank you salute to the various faculty and staff members who assisted the ROTC department with recruiting during the summer. The November commemoration acknowledges the Advance camp, Basic Camp, Airborne, Air Assault and Northern warfare graduates as well as the Color Guard, Drill team and Ranger challenge team members. The final awards ceremony is conducted in May. This function presents academic awards such as: the American Legion, George C. Marshall Award, Reserve Officers Association Gold and Silver Medals, Reserve Officers Association Ribbons of Merit-Freshman and Sophomore, American Veterans of World War II, Korea and Vietnam Medal, Veterans of Foreign Wars of the USA Citation of Achievement, Sons of the American Revolution Medal, Daughters of Founders and Patriots of America Medal, ROTC Physical Proficiency Award, ROTC Recondo Award, Army Parachutist Badge, Outstanding Cadet at ROTC Advanced Camp Award and Outstanding Ranger Award.
Guest speakers such as GEN William "Kip" Ward, GEN (R) Larry R. Ellis, MG Bennie Williams, MG (R) Arthur Dean, and MG (R) Thomas Prather have cast down their infinite buckets of experience and wisdom upon the "Bear Battalion" in hopes that they might provide thirst quenching inspiration.
Dining-in
The Dining-In is a military tradition less formal than the Military Ball. The purpose is to acquaint Cadets and reacquaint the cadre with traditions of a military formal dinner. There are many activities such as toast, skits, and the infamous "grogg" bowl ceremony. The Dining-In strengthens the morale of the Cadets and allows for a fun time.
Cadet Socials
Informal barbecues and other parties are held at various times during the year and are open to all Cadets. Cadets are encouraged to invite a friend.
Commissioning Ceremony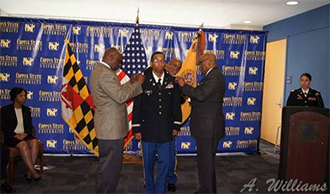 It is a moving ceremony that holds special meaning for Cadets being commissioned. It's important for our Cadets to see where all the training and hards works leads.