Private Donor Awards and Scholarships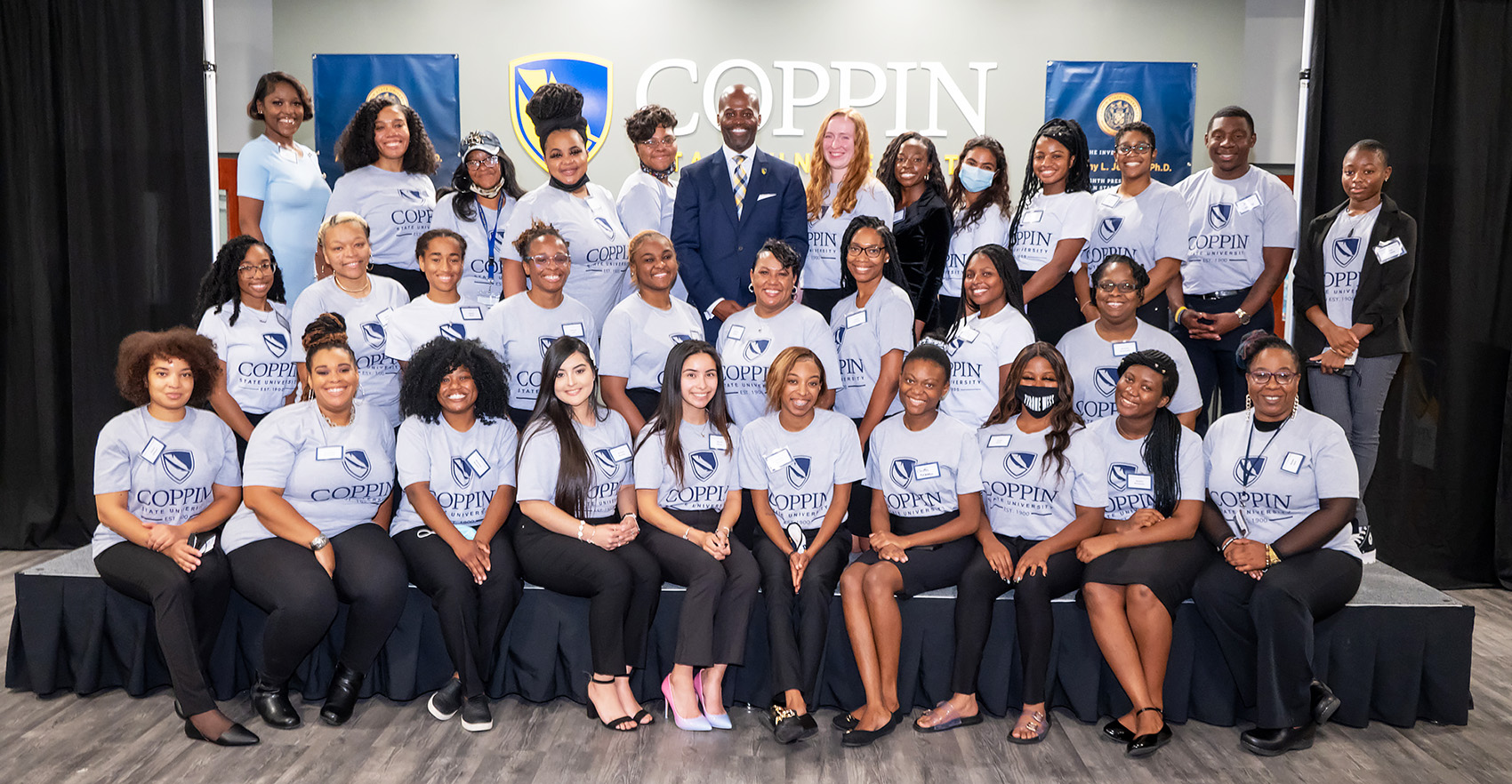 At Coppin, we are deeply committed to our students' success. Access to higher education is key to transforming the lives of our multi-generational student population. By providing assistance through scholarships, we lessen the financial barriers that many of our students face. The Private Donor Award (PDA) program ensures access to the University's outstanding academic programming.
Assistance is available to students who have demonstrated academic achievement and financial need. These scholarships are funded by the generous support of our donors to the Coppin State University Development Foundation. The two priorities of the program are to both facilitate the wishes of the donor and to assist with increasing enrollment, retention, and graduation rates.
Eligibility
Only currently enrolled Coppin students are eligible to apply. In addition, to be considered eligible all applicants must:
submit all required scholarship application forms and documents
meet the minimum scholastic and other requirements specified in the Private Donor Award Program policy
Graduate Student Applicants
Graduate students are eligible to apply for funds from the Private Donor Award Program.
Part Time Students
Students who are taking 6-11 credits per semester are eligible to apply.
State Employees and Family Members
State employees and their family members who are eligible to receive tuition remission through the State of Maryland are not eligible to receive an award from the Private Donor Scholarship Program.
Application Process
Applications must be submitted via the online scholarship portal which can be accessed using your Coppin student email address and password. Once logged in, detailed instructions are provided. Each applicant must complete a FASFA in order to be eligible to receive funds from the PDA Program unless that student is ineligible to receive Federal Financial Aid. The open application period is March 31, 2023 to May 31, 2023.
Application Review
Applications are reviewed by the Private Donor Award (PDA) Coordinator in collaboration with various academic department review committees. Both self-reported information and imported data from the student's record comprise content for review.
Award decisions are made based on the scholarship memorandum of understanding criteria and general program criteria including a minimum grade point average of 2.2 and active enrollment and participation in a degree seeking program.
Award Notification
Application and award notifications will be emailed to students via their Coppin student email and will also be posted to the student dashboard within the portal. All student transactions must be completed through the portal including submitting the general application and accepting any awarded scholarships. Please note, upon accepting a scholarship, an additional post-acceptance application is required.
Award Process
The PDA program works with the Financial Aid Office to properly package and effectively use the various types of student assistance (federal, state, institutional, and private). To ensure that a student's financial aid package does not exceed the federal unmet needs financial aid guidelines, all awards are forwarded to the Financial Aid Office. Financial Aid will then develop the student's award package and determine the unmet need. Once the unmet need is determined, the Foundation will post the final approved award amount to the student's account.
Expected Award Amounts (awards are for Fall and Spring semesters only)
Average award amounts:
Full-time undergraduate (12 or more credits) - $1,000 - $1,400
Part-time/Graduate: (6 – 11 credits) - $500 - $1,000
The average award amounts are subject to change and are dependent on availability of funding and criteria outlined within the gift agreements.
Book Awards
Students needing additional assistance may apply for an award to purchase books. A completed book scholarship application must be submitted along with all requested documentation including:
Invoice from the campus bookstore listing all course related books or access codes and their corresponding prices
Documentation of courses enrolled in for the requested semester
If approved, the student will be notified by email. An account reflective of the award amount will be set-up at the Coppin bookstore for the student. Book awards are only given for course related materials, books and supplies.
Incoming Freshmen Awards
Incoming Freshmen are not eligible to apply to this program. The Office of Admissions may identify incoming freshmen and/or transfer students to receive funding from the Private Donor Scholarship program. The Admissions Office will make decisions based on their current recruitment priorities.
Student Emergency Fund
Students in need of emergency assistance, must apply through the Office of Student Affairs. Awards will be made on a case by case basis. The student's matriculation rate and grade point average and other documentation may be taken into consideration.
Award Probation, Extension, and Expiration
Award Probation
The Scholarship Review Committee has the option of placing a student on probation if the student's academic performance falls below the minimum standard as per the award criteria. Probation will last for one semester and that student must improve academic performance by the end of that semester. If the student's grades do not improve, the award will be cancelled.
Appeal Process
Students who believe that they should have been awarded during a particular semester but did not receive their award may request a review of his or her application up to 30 days after the awards are posted for that semester.