Jun 13 2022
Two Coppin State University Students Named 2022 White House HBCU Scholars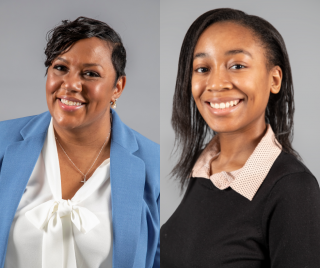 BALTIMORE – Two Coppin State University students are among the 2022 cohort of HBCU Scholars selected by the White House Initiative on Educational Equity, Excellence and Economic Development through Historically Black Colleges and Universities. Jamie Reed ('23) and Stephanie Leggette ('23) are among the 86 undergraduate, graduate, and professional students representing 56 HBCUs across the country, recognized for their excellence in academic achievement, civic and campus engagement, as well as their willingness to pursue new opportunities. The current cohort was selected from a competitive pool of over 350 students.
Jamie Reed ('23) | Brandywine, MD
Jamie Reed is an elementary education major from Prince George's County, MD. Jamie was inspired to become a teacher by her mother, who is also an educator. Jamie is very involved on campus at Coppin State University, with several roles on campus.     

Jamie is grateful to be selected for the HBCU Scholars initiative and the opportunities to networking and learning from others in her cohort.

"There are so many HBCU students from so many places that have different experiences that I can learn from and that they can learn from me," said Jamie. "I'm hoping that, in networking with these people, I can get a better understanding of what I need to do as a teacher to help my students."

Jamie is also looking forward to taking what she learns from this new experience, including working with NASA, and translating that into meaningful lessons and experiences for her students, and positively impacting their lives.  

"The students really are the future. What happens in every school, is pivotal to how the nation ends up," Jamie shared. If I'm able to touch these students and help them learn and be prepared for life, I feel the world will be better off."
Stephanie Leggette ('23) | Baltimore, MD
Stephanie Leggette is an early childhood education major from Baltimore City. Stephanie was encouraged to apply for the HBCU Scholars initiative by her mentor and professor, Dr. Wanda McCoy, who believed that Stephanie would do well, and had much to offer the program.

Stephanie credits the support of her husband, encouragement of her family, and confidence she found as a student at Coppin State University for her ability to balance pursuing her education full-time, family responsibilities, and homeschooling her two children, ages 11 and 15.

"I was overjoyed. It's a humbling circumstance because I don't always feel like I deserve this," Stephanie shared. "Coppin has given me an excellent opportunity to be able to voice my opinion and show the world that as small as Coppin is, we are very mighty."

Stephanie is excited for the opportunity to represent Coppin State University and to work with other top students from HBCUs around the country. Stephanie says she is also excited think creatively about what she can bring to the HBCU Scholar experience, and how she can incorporate what she learns into her work in the classroom. After graduation, Stephanie looks forward to teaching young children, and pursuing a master's degree. Stephanie shares that her long-term goal is to open an education center.

"I gravitate more to the younger age groups because that's the area where we need to focus on a lot because if they don't have that foundational knowledge, they're not going to be able to build upon it," said Stephanie. "If someone is not dedicated enough to take that and be able to give them that foundation, that strong foundation, those students won't be able to go anywhere."
Reed and Leggette will represent Coppin State University, and the HBCU Scholar initiative while networking with other scholars from across the country to showcase the talent fostered by HBCUs, as well as the positive impact of these institutions.