Aug 24 2023
Media Advsiory: Coppin State University to Welcome New and Returning Students to Residence Halls for Fall 2023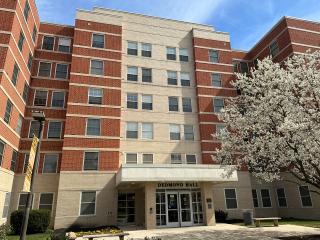 BALTIMORE – Roughly 600 first-year, transfer, and returning residential students will return to Coppin State University Friday, August 25 and Saturday, August 26, 2023, ahead of the 2023-2024 academic year. Community volunteers will be on hand to help students get settled into their fully furnished suites.   

Move-in day can be a family affair at Coppin State, and there will be food trucks, vendors, and activities for visitors to enjoy.
Classes begin Monday, August 28, 2023.
Members of the press are welcome to join us for move-in, and should call Director of Communications, Robyne McCullough, at 410.591.2247, for parking and other information.

Additional Information:

What: Coppin State University Move-in Weekend 

Who: Coppin State University first-year and returning students; community volunteers

When: Friday, August 25, 2023 and Saturday, August 26, 2023 | 9 a.m. – 5 p.m. 

Where:
Dedmond and Daley Halls 
Coppin State University 
2500 W. North Avenue 
Baltimore, MD 21216
(Dedmond and Daley Halls are located adjacent to N. Warwick and N. Windsor Avenues) 

(Click here for a campus map)