Sep 26 2023
Leaving a Legacy: Demetria and Cory McCray Launch Endowment to Support Education Majors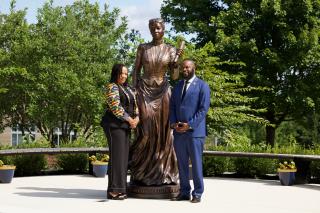 Demetria McCray ('05) made the choice to become an educator when she was in the third grade at Bernard Harris Elementary School in East Baltimore. She was inspired by her third-grade teacher, May (Mae) Williams, who invested time and energy in young Demetria that allowed her to see her own potential and purpose.
"We had a relationship outside of school that my mom really supported and I loved that," she explained. "I wanted to be that for somebody else." 
When the time came to apply to college and pursue her dream of becoming an educator, finances were a concern for Demetria and her parents.  Demetria applied to several schools, both in Maryland and out-of-state, but told Talon Magazine that Coppin State was her top choice because of its strong century-long reputation of preparing diverse and highly qualified educators for the classroom.
"I kind of knew I didn't want to go out of state because I wasn't ready to leave home. I also knew I wanted to go to a college that was a teacher college, so this was option number one for me, I just couldn't afford it."
Demetria's acceptance into Coppin State and its Honors Program, which came with a full scholarship, made attending college possible, and brought her closer to realizing her dream of becoming a teacher. Demetria says she flourished as a student in the Honors Program at Coppin State, gaining a level of independence and maturity that has served her well beyond graduation.  
Demetria graduated with her B.S. in Early Elementary Education and has taught at Wellwood International School in Baltimore County for nearly 20 years. She credits her success to her experiences and training she received as a student at Coppin State University. 
Demetria and her husband, State Senator Cory McCray met at 17, and experienced much of Demetria's time at Coppin State together. After attending the inaugural Coppin State University gala, the McCrays wanted to find a way to amplify the university's transformative impact and leave a legacy that would help shape the lives of more students like Demetria, whose financial position could be a roadblock on their educational journey.
"I think it is important to recognize a lot of these young folks are trying to figure it out by themselves, where their parents didn't go to school," said Senator McCray, who is an electrician by trade. "It is not like their parents don't want great things for them but it's hard to relay that experience if you've never been through that experience and they need that extra support."
The McCrays have started the Demetria Boyd Foundation Merit Scholarship Endowment, which will support students in the School of Education, who maintain a 3.0 cumulative grade point average, and are verified voters in Baltimore City.
"There aren't as many Demetria's that get across that finish line that there are supposed to be," Senator McCray told Talon Magazine. "We have that responsibility to make sure young folks from Baltimore City have that path. Supporting education is another form of giving back." 
Cory and Demetria McCray have four children: two sons, ages 8 and 9, as well as two daughters, ages 14 and 16. Demetria hopes at least one of them chooses to follow in her footsteps at Coppin State.  She also shares her love of her alma mater with her third-grade students, even at their young ages.
"When we have college week at our school for our HBCUs, everything is Coppin," she shared. "I'm wearing all my gear. I push it because I never felt more like it was home away from home," she shared. "I always say whatever your experience is, you want that to be home - somewhere you feel comfortable, somewhere you feel safe, and somewhere you can grow. Coppin is that for me."