Mar 23 2021
Coppin State University Recognized for Top Adult Programs for 2021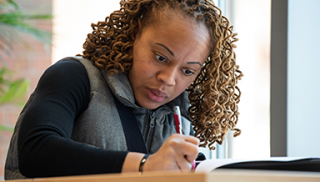 Coppin State University (CSU) has been recognized for having top adult degree programs for 2021 by a national resource website created to guide adult-learners in their college decision process.
Abound.college is a go-to guide that helps the growing population of adult students find degree completion, graduate, nursing, and MBA programs at institutions that have been vetted for the highest quality, that are affordable, have accelerated programs, and are accessible. Recognized as an exemplary institution, the honor is the latest in several top rankings received by CSU in the past year.
CSU was qualified based on factors that cover the essential needs of the non-traditional student including accessibility, affordability, acceleration, and advancement. Abound focuses on what matters most: flexible classes and services, affordable courses, a range of quality programs, and degrees that help students advance in their field.  As a rated exemplary institution, CSU is listed in Abound's directory that guides potential adult students through their college decision journey.