Mar 28 2022
Coppin State University Launches Financial Literacy Partnership with PNC Bank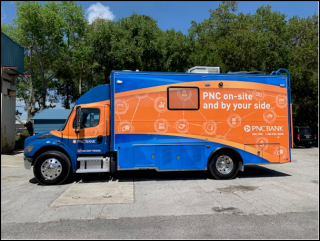 Coppin State University, through its College of Business, is launching a new partnership with PNC Bank to provide students and community members with expanded access to financial literacy education and banking services in West Baltimore. The PNC Mobile Branch and Financial Literacy Lab will provide access to PNC personnel who can educate community members and students on financial literacy, personal finance, and careers in banking. The mobile branch will also offer financial services, including checking and savings accounts; debit and credit card services; lending services; and ATM banking.
"Coppin State University, as an anchor institution here in West Baltimore, is pleased to bring this innovative partnership to our community during financial literacy month and beyond," said Coppin State University President, Anthony L. Jenkins, Ph.D. "We are committed to educating our students, as well as fostering life-long to improve outcomes and well-being for those who may not have access to these resources. This is a rich opportunity to engage and serve the community in a meaningful way, and I would like to thank PNC for helping us forge pathways to financial careers and financial wellness here in Baltimore."
This financial literacy programming is part of a long-term partnership between Coppin State University's College of Business and PNC Community Development Banking, made possible by a $300,000 grant focused on education, entrepreneurship, and economic development. The relationship with PNC will strengthen Coppin State's efforts to deliver financial education and entrepreneurship training to residents. The partnership will also assist in addressing the wealth gap in Baltimore.
"The mobile financial learning lab and banking branch enhances our ability to support personal finance education in and out of the classroom," said Sadie R. Gregory, Interim Dean of the College of Business. "This partnership sends a message that Coppin State University is intentional in the education we provide our students and committed to extending opportunities and resources to our neighbors in West Baltimore."
The Mobile PNC Branch will operate in Lot F on the Coppin State University campus, near the Talon Center, every other Tuesday. The hours of operation are 1 p.m. – 3 p.m. on the following dates:
March 29, 2022

April 12, 2022

April 26, 2022

May 10, 2022

May 24, 2022

June 7, 2022

June 21, 2022