Jul 27 2022
Coppin State University to Launch Insurance Learning Laboratory and Collaboration with $50,000 Gift from Northwestern Mutual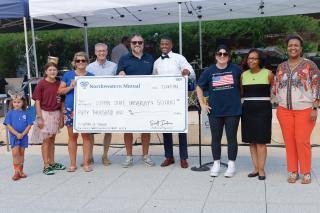 Coppin State University, today, received a $50,000 gift from Northwestern Mutual to launch its Insurance Learning Laboratory and support additional career readiness, academic, and community outreach initiatives through the CSU College of Business. The gift and collaborative efforts will help support Coppin State University's efforts to meet the need for highly skilled, knowledgeable, and diverse workforce over the next five years.
"This dynamic partnership is the first of its kind between Coppin State University and Northwestern Mutual," said Vice President for Institutional Advancement, Joshua E. Humbert. "This degree of financial support, mentoring, and academic application will prepare our students for careers in the wealth management industry and teach them the necessary wealth-building tools needed to provide support and stability to families for generations to come."
The gift was presented by a team from Northwestern Mutual to Coppin State University during the second installment of the Summer Concert Series, hosted by the Office of Alumni Engagement.
This collaboration will incorporate elements of Northwestern Mutual's programming focused on insurance, financial planning, economics, and decision making into the University's newest insurance course. Students will engage in active learning in the classroom, the learning lab, and with Northwestern Mutual employees during lunch-and-learn sessions.
"I am excited about our partnership with Northwestern Mutual and the opportunity that it will afford our students to learn about the insurance industry and to apply the knowledge in real world experiences," said Sadie R. Gregory, Ph.D., dean of the College of Business.  "The opportunity to partner with Northwestern Mutual will assist the College of Business with broadening the curriculum, creating new career pathways and positioning our students for the highly competitive business environment."
Coppin State University students and faculty will be selected to attend the Certified Financial Planning Conference each year of the partnership. Students will also have opportunities to participate in pitch competitions.
"Northwestern Mutual Mid-Atlantic is honored to partner with Coppin State University, in the creation of its financial services programming. Coppin's commitment to empowering students to better understand the financial services industry aligns with our mission as an organization: to enrich the lives of those we serve and help people build financial independence through systematic hard work, caring and courageous truth, and expert financial planning," said Ali Solonche, Director of Internship Development for Northwestern Mutual. "Through these exciting partnerships, we aim to expose the next generation to the increasingly diverse and growing financial services industry. This partnership can ultimately serve as a catalyst for better financial security for the future generations in Baltimore, throughout Maryland, and across the country."