Apr 21 2023
Coppin State University to Host 2023 Economic Inclusion Conference at Coppin April 27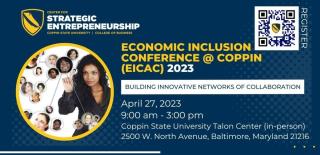 BALTIMORE –The Coppin State University Center for Strategic Entrepreneurship and College of Business will host the Economic Inclusion Conference at Coppin on Thursday, April 27, 2023, from 9 a.m. to 3 p.m. The theme for this year's conference is Building Innovative Networks of Collaboration. 
During the conference, Coppin will showcase the relationships and collaborative programs developed by Coppin State's Center for Strategic Entrepreneurship (CSE). The center provides access to opportunities that foster positive economic mobility as well as entrepreneurial skills for Coppin students, faculty, staff, and members of the greater Baltimore community.
The conference and presenters will also explore what a hyper-connected ecosystem, shaped by technology and virtual workspaces, means for competition, productivity, and entrepreneurial opportunities in the world of business and our global economy.
Comptroller Brooke E. Lierman will serve as the keynote speaker.
The 2023 Economic Inclusion Conference at Coppin is sponsored by TEDCO, PNC Bank, Greater Baltimore Black Chamber of Commerce, and Coppin State University College of Business.
Register for the conference here: https://bit.ly/EICAC2023
Additional Information: Jan Mangana, jlassiter-mangana@coppin.edu
What: Economic Inclusion Conference at Coppin
When: 
Thursday, April 27, 2023 | 9 a.m. – 3 p.m.
Where: 
Coppin State University Talon Center (Campus Map)
2500 W. North Avenue
Baltimore, MD 21216
Who: 
Brooke E. Lierman, Comptroller of Maryland (Keynote Speaker)
Dr. Ron Williams, Director, Center for Strategic Entrepreneurship
Erin Horne McKinney, National Executive Director, Howard University and
PNC National Center for Entrepreneurship
Dr. Tammira Lucas, Venture Growth Advisor, Urban Business Innovation Initiative, TEDCO
Bernadine Hawes, Immediate Past Chair, Manufacturing Extension Program
Frank Robinson, Vice President, Econsult Solutions
Other entrepreneurial and ecosystem speakers

Media Note: Center for Strategic Entrepreneurship Director Ronald C. Williams, Ph.D. will be made available for interviews. Members of the press interested in covering conference events or speaking with Dr. Williams should contact Director of Communications, Robyne McCullough by phone or email.
Agenda:
9 a.m. | Welcome
9:25  a.m. | Keynote Address, Comptroller Brooke Lierman
10 a.m. | Concurrent Sessions
Collective Impact: HBCU Roundtable
Making it Happen: Projected Impact of the Makerspace Pilot Initiative
Starting Right Startup Steps to Success
Baltimore City Public School System Work-Based Learning Engagement: Eagles in Waiting (K-12 Engagement)
11 a.m. | Concurrent Sessions
The CSU Excellence in Entrepreneurial Learning (EXCEL) Project: Research that Drives Change
Tech Talk with TEDCO
Hearing the Community: Findings of the West Baltimore Listening Tour (West North Avenue Development Authority)
Pathways from Graduation to Greatness: Coppin Student and Alumni Panel Discussion
12 p.m. | Sponsored Lunch and Learn (Registration Required)
1:15 p.m. | Panel Discussion: The Entrepreneurial University: Anchoring the Innovation Network
3 p.m. | EXCEL Research Project Kickoff Reception (Registration Required)
Coppin State University's Center for Strategic Entrepreneurship is leading a
research study funded by The Annie E. Casey Foundation that will describe the landscape of Baltimore's entrepreneurship training programs for youth and
young adults ages 16-29. The study will establish a framework for continuous analysis and improvement of training and resource support to facilitate positive economic mobility for participants.