Sep 28 2021
Coppin Launches Premier Esports Lab Featuring Grammy-nominated Artist Cordae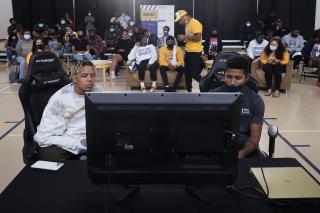 You may be one of the last to find out, but esports is taking over. Already a billion-dollar industry in its infant stage, esports is continuing to draw the attention of millions world-wide. What is esports? Shortly put, organized competitive video gaming. Four words that, together, mean there's a totally different "ball game" being invented here, no pun intended. Like any game and any business, you need players. Not just athletes to score, you're going to need the equivalent of coaches, teams, leagues, owners, dedicated media publications, etc. There's a whole infrastructure that's being built and Coppin State University is placing itself in the middle. 
This fall, Coppin launched its Premier Esports Lab. As part of the introduction to esports on campus, Coppin hosted a stop on the HBCU-MEAC Takeover with Grammy-nominated artist Cordae, on Friday, September 10. Students enjoyed a kickback listening party as well as competed with Cordae in NBA 2K.
Although not the first HBCU to start an esports team, Coppin is the first HBCU to invest and build a dedicated space on campus for its esports team and program. Esports is not just the future, it's now. This is a "fast-growing international phenomenon with millions of fans and billions of dollars up for grabs. Streaming services and live events have turned casual gamers into serious stars who can sometimes rake in seven-figure earnings and massive brand endorsements," CNN reports. Players can earn money from sponsorships, endorsements, and league salaries just as any other sport.
Coppin's decision to support and encourage esports goes beyond gaming and sports, however. The organized component of esports provides enormous opportunity for new business. The video and online component provides boundless access across borders, with arguably lower barriers to entry than conventional sports. The competitive gaming aspect, well, that's a recipe for great entertainment, a pillar of American influence and economics. Like anything that draws so much attention, there's opportunity for monetization at every level. Coppin recognizes that and is creating the best resources, opportunities, and networks for its students to take advantage of these opportunities and be successful in the next blue ocean, aka the new market. 
Although esports is in the beginning stages, there's already recognizable gaps in racial representation and decision making. "Data shows that 83% of minority teens play videos games as opposed to 71% of European/Caucasian teens, and only 14% percent of video games are made up of Latinx and African-American creators, as opposed to 68% European/Caucasian video game creators," Cxmmunity, a nonprofit in the esports sector, asserts. Cxmmunity is committed to increasing the participation of minorities within the esports and video game industry so that there is equal opportunity as new jobs and professions are being created. The organization has partnered and supported Coppin's States new Esports program as well as Coppin's future participation in the HBCU MEAC Esports competition. 
"Gaming is already in our community, we play Madden, Call of Duty, etc. But the awareness about esports is not widespread, at least in our community," says Director of Rec Sports at Coppin, Rahim Booth, who brought the Esports program to the university. The program has a multi-angled mission - to build a highly competitive esports team at Coppin and to leverage esports and all its benefits to the students. Even if the goal is not to become a professional esports athlete, participation in the program can be a segue into business, media, STEM, and the list goes on. Alongside the Esports Lab, Booth is partnering to bring guest speakers, courses, and soon, an esports management degree to Coppin State. Ahead of the curve, this is the exciting beginning of esports at Coppin.
Students interested in joining the CSU Esports team should contact Rahim Booth at rbooth@coppin.edu. 
Story by Brene Carrington