Jan 25 2022
Charlie Jones '06 A Budding Real Estate Shark and Philanthropist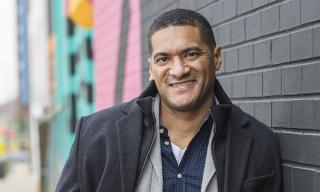 Criminal Justice alum Charlie Jones '06 ventured into real estate after a low point in his career. "I was without a job and had to move back in with my parents and I just didn't like that feeling of not having a job," he said. But being the industrious person he is, Charlie began to Google "how to make money without going to work." "The business side of me came out. I started researching entrepreneurship opportunities and found that real estate was something that I might be able to do. So, I ran downstairs and told my mother, "I'm going to start a real estate company."
Charlie devoured everything he could find on real estate. What he didn't understand, like the terminology of the industry and the various strategies of acquisition and sales, he would do a deep-dive Google research. "I would find an article and read, reread and reread it again. After the third time, I was able to read it with understanding," he disclosed. Charlie did that for over six months until he was ready to make his first purchase. "I bought my first house. Renovated it. Made a little bit of money on it and I rented it out. Then I bought a second house and a third house, and it got better, and I got better and better at it. As result, ABLe Capital was born. Named after my children—Asher, Bolden and Levi."
Now, Charlie is developing a non-profit arm to his business, Urban Equity. "I have public service in my blood. I decided once I was successful in the for-profit realm, I would figure out some way to give back. So, I created this non-profit, centered around low-income communities, homeless veterans, ex-felons, and returning citizens," explained the altruist.
Charlie's heart is as big as his ambitions. Under the umbrella of his for-profit business, the kindhearted gentleman has developed a non-profit. There will be three divisions—hauling, real estate development, and laundry. He will initially tackle laundry and housing. "The system," he continued, "is not geared towards giving ex-felons and returning citizens the best opportunity to succeed because they are discriminated against based on their criminal record. It keeps them from getting employment and stable housing, which keeps people off the streets."
Charlie is a former law enforcement officer and still has a passion for protecting the public. He is currently a member of the Navy Reserve where he serves as lieutenant. He followed in his father's footsteps, who was one of the first Deputy Secretaries for the Department of Veteran Affairs for Maryland.
Charlie remembers his time at Coppin fondly. "Some of my deepest friendships were formed at Coppin." And he accredits his alma mater as being instrumental in his growth. Charlie shared that while at Coppin he learned how to maneuver on his own and how to be responsible. "It was the first time away from home, so it was a learning experience. Coppin ushered me into adulthood. I learned the ins and outs of Baltimore City, where my homes are."