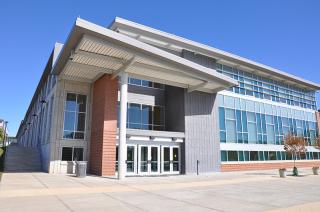 Career and Graduate School Expo
Sponsored by Career and Professional Services
Wednesday, March 29, 2023
10:00 a.m. - 2:00 p.m.
Physical Education Complex (PEC) Room 108
Mon-Fri: 8:30 am - 5:00 pm
Career and Professional Services welcomes Coppin State University students to attend its annual Career Fair.
Why Attend?
The Career and Graduate School Expo is a valuable resource as you explore career and graduate school options. Meet and talk to representatives from a broad spectrum of companies and graduate schools.
How to Prepare
Do your research on the organizations and graduate schools that will be attending
Prepare some questions for the recruiters.
Practice introducing yourself. Include your full name, major, graduation date, and career interest as it relates to the company or graduate school.
Choose your outfit. Plan to dress professionally and wear comfortable shoes.
Day of the fair
Arrive early and bring multiple copies of your resume in a portfolio or folder.
Take notes and a business card so you can follow up with a thank you note or email to each recruiter you spoke with at the Expo.
Carry as little as possible and turn off or silence cell phones prior to going into the fair.
Be confident, direct, and take the initiative to ask questions.
Participating Employers and Schools
Any Major
Amtrak
Baltimore City Police Department
Baltimore City Teacher Residency
Baltimore County Corrections
Baltimore County Police Department
Boys & Girls Club of Metro Baltimore
Cintas Corporation
City of Baltimore: DPW
Comptroller of Maryland
District of Columbia Public Schools
East Baltimore Community Corporation
Enterprise Holdings
Fulton County Sheriff's Office
George Washington University, Elliott School of International Affairs
Johns Hopkins School of Education
LIRS (Lutheran Immigration and Refugee Service
M&T Bank
Maryland Department of General Services
Maryland Department of Health
New Jersey State Parole Board
Office of Senator Chris Van Hollen
Service Coordination, Inc.
Sisters Academy of Baltimore
SP+
St. Elizabeth School
State of Maryland – Department of Budget and Management
The Choice Program
The Literacy Lab
Transportation Security Administration (TSA)
U.S. Census Bureau
U.S. Immigration and Customs Enforcement
U.S. Securities and Exchange Commission
WSSC Water
ZeniMax Online Studios
Business
Amtrak
Baltimore City Teacher Residency
CareFirst Blue Cross Blue Shield
City of Baltimore
City of Baltimore: Department of Public Works
Committee to ELECT Tyler Alcorn for Baltimore City Mayor
Department of Homeland Security
Department of Labor, Office of Federal Contract Compliance Programs
East Baltimore Community Corporation
Enterprise Holdings
General Services Administration (GSA)
Gilbane Building Company
Healthcare for the Homeless
Housing Authority of Baltimore City
Live! Casino & Hotel
LIRS (Lutheran Immigration and Refugee Service
Maryland Department of Health
Navy Supply Systems Command (NAVSUP)
Navy Systems Management Activity (NSMA)
Office of Senator Chris Van Hollen
SC&H Group
Southwest Airlines
St. Elizabeth School
State of Maryland – Department of Budget and Management
Stevenson University Online
The Literacy Lab
Transact Campus, Inc.
U.S. Securities and Exchange Commission
WSSC Water
Natural and Physical Sciences
Baltimore City Teacher Residency
City of Baltimore: DPW
Committee to ELECT Tyler Alcorn for Baltimore City Mayor
Housing Authority of Baltimore City
Maryland Department of Health
Maryland Department of the Environment
Navy Supply Systems Command (NAVSUP)
Office of Senator Chris Van Hollen
St. Elizabeth School
State of Maryland – Department of Budget and Management
The Literacy Lab
UMMS
WSSC Water
Math & Computer Science
Allegis Group
Amtrak
Baltimore City Teacher Residency 
Baltimore County Department of Health and Human Services
BGE
CareFirst Blue Cross Blue Shield
City of Baltimore
Department of Labor, Office of Federal Contract Compliance Programs
General Services Administration (GSA)
Gilbane Building Company
Governor's Office of Crime Prevention, Youth, and Victim Services
Housing Authority of Baltimore City
Navy Supply Systems Command (NAVSUP)
Navy Systems Management Activity (NSMA)
Office of Senator Chris Van Hollen
Southwest Airlines
St. Elizabeth School
State of Maryland – Department of Budget and Management
Stevenson University Online
The Children's Guild
The Literacy Lab
Transact Campus, Inc.
UMMS
U.S. Census Bureau
U.S. Securities and Exchange Commission
WSSC Water
Education
Baltimore City Public Schools
Baltimore City Teacher Residency 
Boys & Girls Club of Metro Baltimore
City of Baltimore
Committee to ELECT Tyler Alcorn for Baltimore City Mayor
Department of Labor, Office of Federal Contract Compliance Programs
District of Columbia Public Schools
Housing Authority of Baltimore City
Johns Hopkins School of Education
LIRS (Lutheran Immigration and Refugee Service
Office of Senator Chris Van Hollen
Reading Partners Baltimore
Service Coordination, Inc.
Sheppard Pratt
Sisters Academy of Baltimore
St. Elizabeth School
State of Maryland – Department of Budget and Management
Stevenson University Online
The Children's Guild
The Literacy Lab
Transformed Perspectives, Inc.
U.S. Census Bureau
Nursing, Health Information Management, and Health Sciences
Baltimore City Teacher Residency
Baltimore County Department of Health and Human Services
CareFirst Blue Cross Blue Shield
City of Baltimore
City of Baltimore: DPW
Committee to ELECT Tyler Alcorn for Baltimore City Mayor
East Baltimore Community Corporation
Fairfax-Falls Church community Service Board
Healthcare for the Homeless
LIRS (Lutheran Immigration and Refugee Service
Maryland Department of Health
Office of Senator Chris Van Hollen
Service Coordination, Inc.
St. Elizabeth School
State of Maryland – Department of Budget and Management
Stevenson University Online
The Children's Guild 
The Literacy Lab
Thrive Behavioral Health, LLC
Transform A Nation
Transformed Perspectives, Inc.
University of Maryland School of Social Work
Behavioral and Social Sciences
Baltimore City Teacher Residency 
Baltimore County Department of Health and Human Services
Bethany Christian Services
Boys & Girls Club of Metro Baltimore
City of Baltimore
Committee to ELECT Tyler Alcorn for Baltimore City Mayor
Department of Labor, Office of Federal Contract Compliance Programs
East Baltimore Community Corporation
Fairfax-Falls Church community Service Board
Governor's Office of Crime Prevention, Youth, and Victim Services
Healthcare for the Homeless
Housing Authority of Baltimore City
LIRS (Lutheran Immigration and Refugee Service
Maryland Department of Health
Navy Supply Systems Command (NAVSUP)
Office of Senator Chris Van Hollen
Reading Partners Baltimore
Service Coordination, Inc.
St. Elizabeth School
State of Maryland – Department of Budget and Management
The Children's Guild
The Literacy Lab
Thrive Behavioral Health, LLC
Transform A Nation
Transformed Perspectives, Inc.
U.S. Census Bureau
United States Probation Office for the District of Columbia
Civics, Political Science and Criminal Justice
Baltimore City Teacher Residency 
City of Baltimore
Committee to ELECT Tyler Alcorn for Baltimore City Mayor
Department of Homeland Security
Department of Labor, Office of Federal Contract Compliance Programs
George Washington University, Elliott School of International Affairs
Governor's Office of Crime Prevention, Youth, and Victim Services
Housing Authority of Baltimore City
LIRS (Lutheran Immigration and Refugee Service
Office of Senator Chris Van Hollen
Reading Partners Baltimore
Service Coordination, Inc.
St. Elizabeth School
State of Maryland – Department of Budget and Management
Stevenson University Online
The Literacy Lab
Transformed Perspectives, Inc.
U.S. Census Bureau
United States Probation Office for the District of Columbia
Humanities and Performing Arts
Boys & Girls Club of Metro Baltimore
Housing Authority of Baltimore City
Governor's Office of Crime Prevention, Youth, and Victim Services
Navy Supply Systems Command (NAVSUP)
Office of Senator Chris Van Hollen
Reading Partners Baltimore
Service Coordination, Inc.
Southwest Airlines
St. Elizabeth School
State of Maryland – Department of Budget and Management
The Literacy Lab
Allegis Group
Amtrak
Baltimore City Police Department
Baltimore City Teacher Residency
Baltimore County Corrections
Baltimore County Department of Health and Human Services
Baltimore County Police Department
Bethany Christian Services
BGE
Boys & Girls Club of Metro Baltimore
CareFirst Blue Cross Blue Shield
Cintas Corporation
City of Baltimore
City of Baltimore- Department of Public Works
Committee to ELECT Tyler Alcorn for Baltimore City Mayor
Comptroller of Maryland
Department of Homeland Security/Office of the Chief Procurement Officer/Acquisition Professional Career Program (APCP)
Department of Labor, Office of Federal Contract Compliance Programs
District of Columbia Public Schools
Dream Life Treatment Center
East Baltimore Community Corporation
Enterprise Holdings
Fairfax-Falls Church Community Services Board
Fulton County Sheriff's Office
General Services Administration (GSA)
George Washington University, Elliott School of International Affairs
Gilbane Building Company
Governor's Office of Crime Prevention, Youth, and Victim Services
Health Care for the Homeless
Housing Authority of Baltimore City
Howard University Department of Occupational Therapy
Johns Hopkins School of Education
LIRS (Lutheran Immigration and Refugee Service)
Live! Casino and Hotel
M&T Bank
Maryland Department of General Services
Maryland Department of Health
Maryland Department of the Environment
Naval Supply Systems Command (NAVSUP)
Navy Systems Management Activity (NSMA)
New Jersey State Parole Board
Northwest Academy of Health Sciences
Oak View Group
Office of Senator Chris Van Hollen
Reading Partners Baltimore
Rutgers Graduate School of Education
SC&H Group
Service Coordination Inc
Sheppard Pratt
Sisters Academy of Baltimore
Southwest Airlines
SP+
St. Elizabeth School
State of Maryland - Department of Budget and Management
Stevenson University Online
The Children's Guild
The Choice Program
The Literacy Lab
Thrive Behavioral Health LLC
Transact Campus, Inc.
Transform A Nation
Transformed Perspectives Inc.
Transportation Security Administration
U.S. Census Bureau
U.S. Department of Labor
U.S. Immigration and Customs Enforcement
U.S. Securities and Exchange Commission
UMMS
United States Capitol Police
United States Probation Office for the District of Columbia
University of Maryland, Baltimore – School of Social Work
WSSC Water
ZeniMax Online Studios