Office of Admissions
International Student Admissions
Mon-Thu 8:00 am - 5:00 pm
Fri 8:00 am - 3:00 pm
Miles Connor Bldg. 1st Floor
Our Coppin State University community includes students from more than 44 countries around the world. As a Historically Black College or University (HBCU), we honor our groundbreaking legacy in meeting the needs of the African American community. At the same time, we are excited to approach the future and how we continue to grow into a more global campus—and that includes you.
When identifying international students, we look to the following criteria:
You are not a U.S. citizen and have been educated outside of the United States
You are currently in the U.S. on an F-1 student visa
You are currently living outside the U.S. and require an F-1 visa to study in the U.S.
You are currently in the U.S. on another class visa
What if I have a permanent resident or parole visa status?
Students who hold permanent resident or parole visa status must add your alien registration number on the undergraduate application where indicated. You may qualify for in-state tuition rates if you:
submit appropriate residency paperwork and
have documented established legal domicile in Maryland for one year prior to the semester date
Please note you may be asked to provide your alien registration card for verification. Also, any and all foreign academic records submitted for evaluation must be translated into English and notarized.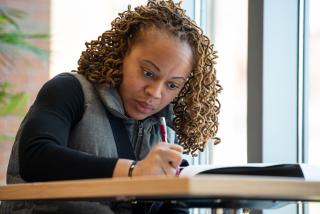 Important admissions deadlines
Be sure to give yourself enough time for us to receive all of your admission materials before the deadline:

May 15th for the fall semester or
December 15th for the spring semester
Resources to evaluate transcripts from non-U.S. institutions
What do I need to apply?
Completed undergraduate or graduate admission application
$50.00 non-refundable application fee (graduate applicants only)
Official transcripts from all institutions attended
Additional program requirements, if necessary
Additional graduate admission requirements, if necessary
Official test scores, as necessary
English proficiency documentation, if necessary
If you have a high school diploma or equivalent and at least 3 years since your last college or university enrollment, you do not need to submit SAT or ACT scores.
Are there any additional admissions requirements for international students?
Yes. In addition to submitting all required undergraduate or graduate application documentation, and applicable program requirements, you must also submit:
Official standardized test scores
English proficiency test scores
What should I know about submitting transcripts from institutions outside the U.S.?
All transcripts from schools outside the U.S. must be evaluated before you submit them as part of your admission application.
College transcripts must be a course-by-course evaluation
High school transcripts must be a document-by-document evaluation
SpanTran is our recommended international transcript evaluation service. They have created a custom application for Coppin State University so you select the right kind of evaluation at a discounted rate.
English Proficiency Exam Options
What should I submit if English is not my native language?
With the exception of global language classes, all CSU courses are taught in English. If you are interested in attending Coppin, you must first demonstrate your ability to read, write, listen, and speak English.
You have several options, including standardized English language tests. Be sure to schedule your exam in enough time to allow us to receive your official scores. Please note, you are responsible for making your own arrangements for these test options.
This exam measures your English reading, writing, listening, and speaking skills. We use these scores to assess your preparedness to pursue study conducted in English. Your score must meet the minimum requirement: 
Paper-based test: 500
Computer-based test: 173
Internet-based test (iBT): 61
This exam also measures English language proficiency, but uses a nine-band scale from non-user (band score 1) to expert (band score 9). Your score must meet the minimum requirement: 
This exam measures English language proficiency based on 4 areas: literacy, comprehension, conversation, and production. It is designed to test ability to read, write, listen, and speak the English language. Minimum score requirement is: