Records and Registration
Advanced Placement (AP) and Prior Learning Credit
Mon-Thu: 8:00 am - 5:00 pm
Fri: 8:00 - 3:00 pm
Miles Connor Building, 1st Floor
We know learning happens in and outside of the classroom. At Coppin, we recognize how important it is to provide opportunities for students to get course credit for your experiences, skills, and lessons learned.
Our students can receive college credit through:
Advanced Placement (AP) Tests
International Baccalaureate (IB)
College Level Examination Program (CLEP)
DANTES Subject Standardized Tests (DSST)
Military experience and coursework
Course-by-course evaluation
Challenge exams
Individual portfolio assessment
Want to learn more, view the full Credit for Prior Learning policy
Ready to put your past toward your future?
Find out more information on qualifying score on the general and subject exams of the CLEP test.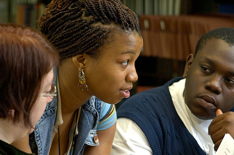 What to know about AP tests
Take your AP tests in May of your high school senior year
Schedule your AP test through your high school counselor or the College Entrance Examination Board
CSU receives your AP test scores in mid-July