College of Health Professions
SIM Center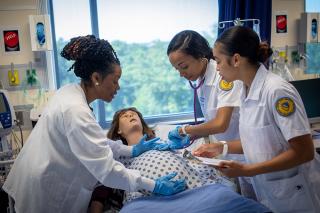 Mon-Fri 8:30 am - 5:00 pm
Health and Human Services Bldg., 1st Floor
Hands-On Practice for Real-World Situations
All the programs in the College of Health Professions incorporate hands-on learning experiences that allow our students to meaningfully connect theory with practice. Through our modern building and simulation facilities, we offer holistic learning experiences that not only help our students excel academically, but also help them translate those skills to patient care and healthcare roles.
We have 2 facilities on campus specifically designed for healthcare simulation:
SIM Center
Learning Resource Center
Each simulation laboratory is fully equipped with functioning equipment simulating medical-surgical, pediatric, maternal-child, and community health settings.
College of Health Professions Programs
Health Information Management
Family Nurse Practitioner
What is simulation?
Simulation is an important part of all CHP students' clinical experience. Our simulation centers offer students extraordinary opportunities to safely practice and learn patient care in a variety of "real world" settings, before treating real patients. Students sharpen clinical skills using high fidelity patient simulators with cutting-edge technology under the guidance and supervision of experienced faculty. With diminishing clinical sites and the needs to foster clinical competence especially among tech savvy students, the use of simulation aims to blend traditional course delivery styles with technological advances. 
The practice of simulation is grounded in experiential learning theory, and focuses on low, medium, and high fidelity clinical strategies. The simulation experiences serve as relevant strategies for achieving the program objectives (Childs & Seeples, 2006).
Low Fidelity Experiences
Focused case studies
Role playing
Virtual clinical excursions and/or task-trainers.
Medium Fidelity Experiences
These learning opportunities offer increased realism through:
Screen-based simulators
Synthetic models
Moulage and live actors.
High Fidelity Experiences
These experiences may include the use of simulators:
Medical Education Technologies Incorporated (METI)
Laerdal simulators including the SimMan, SimBaby and additional technologies
How do students participate in simulation?
Students actively engage in simulation experiences as participants or observers. Participant roles may include:  
Charge nurse 
Medication nurse 
Educator 
Researcher 
Family member
Simulation Techniques and Facilities
Located on the 4th floor of the Health and Human Services Building (HHSB), our innovative student support facility houses the Learning Resource Center, four clinic examination rooms and a ten room, 26 bed simulation laboratory.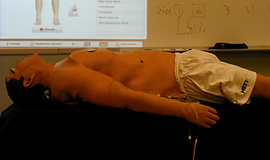 The Sim Center is home to 19 high and low fidelity adult, child and infant simulators. It also has six simulation labs. There are two medical surgical lab high-fidelity simulators (Sim Lab Rooms 403 & 404), two high-fidelity pediatrics/obstetrics simulators (Sim Lab Rooms 406 & 410), and two high-fidelity advanced medical surgical simulators (Sim Lab Rooms 409 & 413). The Resource Center, located in Room 433 with adjoining conference study area in Room 432 are used by faculty and students for scheduled reviews, tutorial sessions and/or teaching practicum learning activities.
Learning Resource Center
The Learning Resource Center (LRC) provides remediation and services to enhance study skills and content retention. The LRC includes an auxiliary library, an adjoining conference room, adjacent study and computer areas, and audiovisual resources.