Academic Success Center
Student Success Services
Mon-Fri 9:00 am - 5:00 pm
Health and Human Services Bldg., Room 133
Student Services Designed for Success
Our goal is simple: we want our students to be successful. We are just one of many resources at Coppin that supports academic, personal, and professional development. Visit our offices, take advantage of our services, and let us know how we can help you realize what success means to you.
Living and Learning Communities
Students in the Helene Fuld School of Nursing (HFSON) have access to Living Learning Communities (LLC). We designed these communities to help students transition into their first 2 years at Coppin. These LLCs are an opportunity for nursing students to build relationships with faculty and each other while mixing academic and residential life in a collaborative environment. The goals of the HFSON LLC include:
Fostering lifelong learning
Facilitating the student's transition to the University
Encouraging student persistence
Nursing Departmental Honors Program
The Nursing Departmental Honors Program is part of the University Honors Program. To be eligible for any Departmental Honors Program, students must meet 1 of the following criteria:
Have earned a minimum 3.0 cumulative grade point average (GPA) and at least 60 credits 

Successfully completed the General Studies Honors Program 

Completed 60 or more credits

Demonstrated outstanding ability in your field(s) of study
Nursing students may earn departmental honors through participation in the Honors program once:
Completing 2 years in the General Studies Honors Program and
Getting the CHP Dean's approval
Resource Center
The Resource Center (RC) is a clinical preparatory facility with standard healthcare equipment and computers. Students can safely practice 1-on-1 patient care simulations before entering the workplace as a qualified healthcare professional.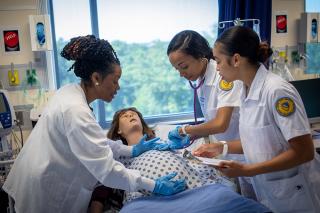 Simulation
We know how important it is for out students to get hands-on practice before working with actual patients. The College of Health Professions uses simulation techniques in our state-of-the-art SIM Center as a way to give our students an edge in practicing patient care.
Junior and Senior Coaching
We use a variety of teaching methods to help students learn and develop specific competencies. Coaching is a model of instruction based on cognitive coaching theory. In this method, a nurse educator/practitioner is not the sole director of the learning experience. Instead, the educator/practitioner serves as a guide and collaborator in the nursing student's learning.
Students have multiple responsibilities during these collaborative coaching sessions. Some of these responsibilities include: 
Attending weekly coaching session
Completing all standardized achievement tests (seniors only)
Creating an individual plan for testing success
Downloading the current NCLEX-RN Test Plan. The NCLEX-RN is a standardized exam that establishes a nursing candidate's preparedness for entry-level work.
Developing an individualized remediation plan
Identifying your test-taking style
Reviewing test-taking strategies
Taking NCLEX-RN  practice tests