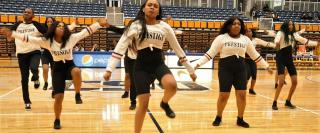 Mon-Fri: 8:30 am - 5:00 pm
The Office of Student Activities and Leadership is responsible for the development and implementation of co-curricular activities, programming that will complement the academic program of studies and enhance the overall educational experience of students through exposure to and participation in social, cultural, intellectual, recreational, and governance programs. The Office is also responsible for the coordination of activities sponsored by student groups and the provision of administrative assistance and advice to classes, clubs and organizations and the student governing body. 
For more information about student organizations, contact Ms. Sandi Green, sgreen@coppin.edu. 
Student organizations, once approved by the office of Student Activities and Leadership, will function during the academic year only, i.e. fall semester and spring semester. Currently, CSU student organizations are only hosting virtual events due to the Covid pandemic. Feel free to follow those who have social media accounts on the platforms listed beside their names below. 
2022-2023 Club/Organization Application
To be considered as an organization for 2022-2023, all undergraduate student organizations must complete and submit the club/organization application on or before Tuesday, May 31, 2022 at 3pm.
Presidents, Advisors, and Social Media Information
Click on names to send an email to the President or Advisor.
Organization
President
Primary Advisor
Social Media
African Student Association
Anthony Amalaha
Angie Cooper
 
Alpha Kappa Alpha Sorority, Inc. (Epsilon Kappa Chapter)
Kyra Welch
Karen Barland
Instagram - @Akaepsilonkappa
Alpha Phi Alpha Fraternity, Inc. (Pi Theta Chapter)
Luis Perez, Jr. 
Chavez Green
 
Bethel Campus Fellowship
Abigail Graham
Denyce Watties-Daniels
 
Chi Eta Phi Sorority, Inc. (Gamma Alpha Beta Chapter)
Chantel Charles
Ericka Smith
Instagram - @Chietaphi_gab
Coppin Models, Inc.
Trachya Biles
Trecia Smith
 
Coppin State Education Association
Carla Brown
Wyletta Gamble-Lomax
 
Criminal Justice Club
Shanaya Walker
Johnny Rice, II
 
Delta Sigma Theta Sorority, Inc. (Zeta Epsilon Chapter)
Khala Cameron
Claudia Nelson
 
Forensic Investigation Club
Natalie Gray
Darlene Brothers-Gray
 
Kappa Alpha Psi Fraternity, Inc. (Zeta Gamma Chapter)
D'Angelo Thompson
Marcus Byrd
 
Lady Sapphires Majorette Dance Team
Keashia Moore
Angie Cooper
Instagram -@csu_ladysapphires
Leadership International
Michael Michael
Angie Cooper
 
National Association for the Advancement of Colored People
Mercy Nkhoma
Melissa Buckley
 
National Pan-Hellenic Council
Trachya Biles
Ihsan Mujahid
 
Omega Psi Phi Fraternity, Inc. (Delta Beta Chapter)
Garyn Mercer
Joe Brooks
 
Phi Alpha National Honor Society for Social Work, Theta Rho Chapter
Terrena Williams
Claudia Thorne
Facebook - Coppin's Phi Alpha Theta Rho Honor Society
Phi Beta Sigma Fraternity, Inc. (Delta Delta Chapter)
Kevin Dryden
Kevin Pertee
 
Prestige
Maiana Harcum
Katsura Kurita
 
Queen In You
Jayla McCullough
Christopher Thomas
 
S.A.S.S.Y. Models
Aujhile Hilliard
Angie Cooper
 
Sigma Tau Delta Honor Society
Trinity Gray
Blessing Diala Ogamba
 
Strong Men Overcoming Obstacles Through Hard Work (SMOOTH)
Ira Anderson, Jr. 
Marcus Edwards
 
Social Work Association
Tara Smith
Christa Gilliam
Instagram - @Coppinstate_SWA
Student Athlete Advisory Committee
Miajovian Coleman
Shaunita Middleton
 
Student Health Information Management Association
Tiara Harvey
Patience Ebuwei
 
Students Open to Unique Love (S.O.U.L.)
Sofie Dirie
Christopher Rivera
 
Zeta Phi Beta Sorority, Inc. (Nu Gamma Chapter)
Tykita S. Copes
Crystal Day Black

Facebook - nu_gamma_zetas

Instagram - @nu_gamma_zetas