Division of Institutional Advancement
Ways to Support Coppin
Mon - Fri: 8:30 am - 5:00 pm
Miles Connor Building, 3rd Floor
Ways to Give
You are important to our work to support Coppin students. There are so many ways to get involved and ensure the success of our students, and the future of our beloved University. 
Major Giving Campaigns
Throughout the year, Coppin sponsors major giving campaigns that focus on a specific University mission or goals. Right now, there are 2 major opportunities that need your financial support: 
Fanny Jackson Coppin Monument and Scholarship
Coppin State University gets its proud name and legacy from our beloved namesake, Fanny Jackson Coppin. Coppin seeks to honor her legacy through the Fanny Jackson Coppin Scholarship, and a new life-size bronze monument on campus.
Learn more about our namesake campaign
Coppin Family Campaign
Every faculty and staff member who works at Coppin is part of a larger Coppin family. The Family Campaign is another way University employees can give back to our students.
The Annual Fund
Alumni, parents and friends can assist the University in securing its future by giving to the Annual Fund. The Annual Fund is used to support an exceptional living and learning environment for current and future students. These funds provide important resources that impact every aspect of the Coppin experience. From providing student aid to funding residence life programming to supporting faculty research to paying for technology and campus beautification projects—this fund allows Coppin to address its most pressing needs and opportunities.
Most often, donors make their first gift to the University through the Annual Fund, and year after year, they renew their commitment. We are most grateful for these contributions because they finance ongoing programs and initiatives that benefit the entire campus community. Your unrestricted gifts to the Annual Fund ensure that the University is able to meet its commitment to academic excellence while adapting to the ever-changing needs of our students.
Covid-19 Student Emergency Fund
Coppin State University is sensitive to the challenges our student population may be facing right now as a result of COVID-19. To address the current pressing needs and those that will impact students during the aftermath of this pandemic, we are focused on raising support for the Student Emergency Fund. Your support can help student who may be dealing with lost wages, housing or food insecurity or lack of transportation. Together, we can help Coppin students to persevere through their personal challenges and focus on earning a degree.  
Scholarship and Endowment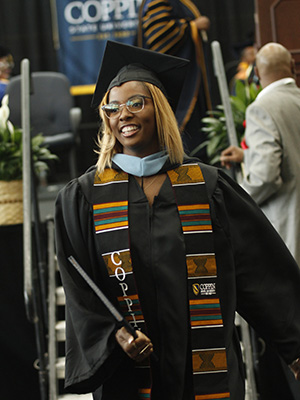 We are deeply committed to our students' success. We want to ensure that students can complete their degree program without financial stress and the least amount of student loan debt. Scholarship support is the University's top fundraising priority, and has the most significant impact.
An endowment is a perpetual gift that will fund scholarships or support University initiatives for years to come. Endowment funds are invested and the earnings are used to support various programs. These types of gifts provide a long-term benefit for Coppin.
For more information about how to fund a scholarship or endowment, call the Division of Institutional Advancement at (410) 951-3800.
Special Giving Programs
We have several special initiatives donors can support. These types of funding opportunities give our students exposure, raise the profile of the University, and reinforce our unique priorities. Some of our premier giving programs include:
Senior Opportunity Scholarship (SOS)
Foundation Merit Scholars Program
Legacy Foundation Merit Scholarship Program
Fanny Jackson Coppin Legacy Society for Planned Giving
As a donor, you have the opportunity to help our students finish strong. The Senior Opportunity Scholarship (SOS) has a direct impact on rising juniors and graduating seniors at Coppin State University. 
The SOS gift removes a major obstacle in a student's pursuit of a Coppin degree. We are proud to be able to assist our students in realizing their dreams by providing such needed support.
The Foundation Merit Scholars Program promises to make the Coppin experience more accessible to students who have demonstrated academic success. Foundation Merit scholarships are among the most prestigious offered by the University, and are an investment in the long-term success of our brightest stars.
Foundation Merit Scholarships are fully funded $25,000 endowments invested for long-term growth. Each scholarship is named for its donor or in memory of a loved one, and their portraits are displayed in places of distinction throughout the campus.
Interested in contributing to the Foundation Merit Scholars Program? Reach out to the Division of Institutional Advancement at (410) 951-3800.
The Foundation Merit Legacy Program is a contribution opportunity for donors who wish to establish an endowment by including Coppin State University in their long-range life planning. Donors who bequeath a minimum of $25,000 to the Coppin State University Development Foundation (CSUDF) through a will, life insurance policy or trust become part of the Foundation Merit Legacy Program. Donors who plan long-term financial gifts ensure an economically stable Coppin for years to come.
Created to honor our namesake, the Fanny Jackson Coppin Legacy Society is for benefactors who have provided for Coppin's future through bequests, life income gifts, as well as other estate and planned gifts. Members not only have the satisfaction of knowing they have ensured the long-term success of the University, but may also receive financial and tax benefits. Planned gifts keep giving for decades, and are the ultimate expression of confidence in our mission.
We are pleased to include individuals who provide support for Coppin in one of the following ways:
A bequest to Coppin through a will or trust
A gift of real estate or tangible personal property
Name Coppin as owner and/or beneficiary of a life insurance policy
Establish a gift with Coppin that provides income to you or others such as a charitable gift annuity or charitable trust
Name Coppin as a beneficiary of an IRA, 401(k), 403(b) or other retirement plan
SOS recipients share their stories...
The scholarship gives financial support to worthy students who are close to graduation, but have exhausted their financial aid. Students faced with this type of financial challenge may struggle to complete their degree which can keep them from starting a career or earning an advanced degree.