Campus Police
Police Department Internship Program
To educate and involve students in police operations, to interest them in possible law enforcement careers, to build mutual understanding between the student population and the police department, and to develop interns as well-rounded, law-abiding individuals.
Mon-Thu: 8:30 am - 4:30 pm
Fri: 8:30 - 3:00 pm
Physical Education Complex, Suite 272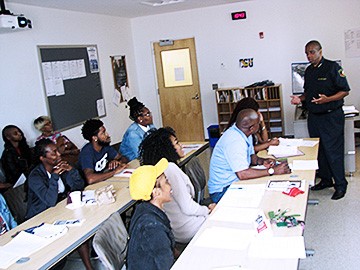 The Coppin State University Police Department is eager to announce a student internship opportunity for intrigued students. In alliance with the Department of Criminal Justice, this program will give active involvement inside different divisions of the University Police Department. Student Interns may get academic credit upon effectively finishing the Program. Student interns will also have the chance to connect with different Divisions including the Criminal Investigations, Uniformed Patrol, Administration/Records, and the Police Communications Division. Student Interns will have the opportunity to closely watch officers partake in responsibilities that may incorporate, however, are not restricted to, managerial work, support in court systems/forms, and different obligations as allocated. It is essential that all candidates comprehend that Coppin State University Police Department focus is on building common understanding between the student public and the police department to develop Interns as well-rounded, law-abiding individuals.
Entry into the Program
Student interns must meet the following qualifications to apply:
Currently enrolled as a student at Coppin State University
Have a GPA of 2.5 or higher
At least 18 years of age
Junior or senior classification
Ability to pass a standard background check, in addition to a CLEAN/NCIC federal fingerprint check
Additionally, interested candidates must fill out the application entirely
Send your completed application to aboddie@coppin.edu.
From Our Student Interns
I thank the entire Coppin State Police, from Chief Hamm and the other Officers. A big thank you and appreciation to Officer W. Wilkes. I am extremely grateful that you took time to steer me in the right direction.

Kunle Ayonrinde
I got the chance to experience what happens during a ride along and see what some of the duties are here on campus. I would recommend this internship to a fellow classmate who is a Criminal Justice major and wants to pursue a career in this field.

Chaelah Hart
My experience as an intern with the Coppin State University Police Department has been informative. I've gotten to see firsthand what the on campus officers do on a daily basis.

Aaliyah Lewis
Internship at Coppin State University Police Department has taught me the mission and purpose of law enforcement; it provided me with a positive experience about the responsibilities that Law Enforcers have to work with on a daily basis.

Jaliya Watkins