Sep 26 2023
Coppin State University Announces Significant Student Enrollment Growth for Fall 2023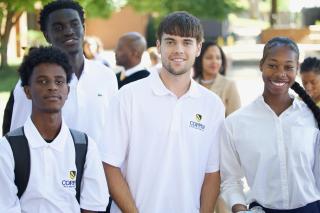 BALTIMORE – Coppin State University has experienced overall growth in student enrollment, which is also accompanied by double-digit enrollment growth among key student groups to start the 2023-2024 academic year. According to institutional data, Coppin State experienced a five percent growth in overall enrollment, with 2101 students enrolling during the Fall 2023 semester, compared with 2006 students enrolled during the Fall 2022 semester.
"The last two years of enrollment growth for Coppin State University reflects our commitment to attracting new students and supporting returning students, and clearly shows the upward trajectory we are on at Coppin State University," said Anthony L. Jenkins, Ph.D., president of Coppin State University. "Growing our multicultural and multigenerational student population strengthens our campus community, fosters new connections in Baltimore, and grows our sphere of influence. I look forward to advancing our mission to provide access and opportunity to all students, expanding our enrollment through our top-tier academic programs, and illustrating the impact our students, faculty, and alumni are having around the world."
The five percent increase in overall enrollment is accompanied by double-digit growth year-over-year in key student demographics, including:
20% increase in new first-time students;
35% increase in new transfer students; and
53% increase in new graduate students.
After graduating 500 students in Spring 2023, Coppin State was able to retain roughly 74% of first-year students into their second year.

The strong student enrollment and retention results were also supported by the Reimagine Yourself at Coppin campaign, which aims to re-engage students who left Coppin State within the last five years and encourage them to complete their degree at Coppin State.  Through this campaign, Coppin State was able to re-enroll 114 students for Fall 2023.
"Each student who joins Eagle Nation brings their unique experiences and perspectives to our community of scholars and enriches the campus in their own way," said Stephan T. Moore, Ed.D., vice president for enrollment management and student affairs. "We are encouraged by our stop-out students choosing to re-enroll at Coppin after some time away. We are also glad students are taking notice of our renewed holistic focus on the student's co-curricular programming and development experiences. We aim to provide our scholars with educational and experiential learning opportunities to unlock their potential and set them on a path to success."
Coppin State University, a University System of Maryland member institution, anticipates continued student enrollment growth resulting from its enhanced recruitment and retention efforts, including a nationwide marketing campaign, new innovative academic programs, a commitment to holistic student development through the Eagle Achievement Center, as well as a new initiative offering in-state tuition rates to students from more than 35 U.S. states and territories outside of Maryland.

Individuals interested in applying to Coppin State University should visit https://www.coppin.edu/