Sep 21 2022
Coppin State University Nursing Program Receives $25,000 Grant to Prepare Students for Updated Licensure Exam, Address Nurses Shortage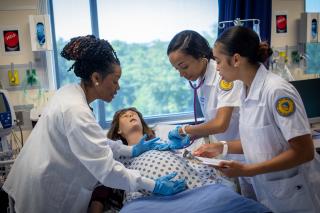 BALTIMORE – The Coppin State University Helene Fuld School of Nursing has received more than $25,000 from the Maryland Higher Education Commission to support and modernize undergraduate student preparation for the National Council Licensure Examination for Registered Nurses (NCLEX-RN). The grant will enable the School of Nursing to acquire and integrate ExamSoft learning assessment tools and software into the existing curriculum, and instructional technology which will help prepare students for the newest iteration of the NCLEX-RN.
 The adoption of the ExamSoft technology will expose students to the new exam format, which includes case studies, and more questions related to clinical reasoning. The software will also allow students to study using mobile devices in classrooms and in their free time.
 "Putting our Coppin-trained nurses on the path to licensure is how we define success for our School of Nursing," said Coppin State University President, Anthony L. Jenkins, Ph.D. "Our nurses are among the best in Maryland, because of our outstanding faculty and the guidance they provide. This software is a new tool in their toolkit to serve our students and help them secure a career that will transform their futures, as well as health outcomes for entire communities."
The additional technological support will enable current and future cohorts of undergraduate nursing students to pass the NCLEX-RN on their first attempt and help address the ongoing nursing shortage. A report released by the Maryland Hospital Association found one in every four hospital nursing positions is vacant, high staff turnover, and a need to rebuild the workforce pipeline in nursing. Graduating and licensing new nurses is key to addressing the nursing shortage, and will help fill critical needs for an aging, and more diverse population. In 2020, the National Nursing Workforce Study found roughly 19 percent of registered nurses self-reported as belonging to a minority group.
"Our students have to contribute to a culturally diverse workforce, that mirrors our nation's changing demographics," said Crystal Day-Black, Ed.D. "This is especially important because patients want people who look like them. We know that there are disparities in health care delivery for racial and ethnic minorities. Our students are filling the gaps."
In 2021, 84.6 percent of Coppin State University passed the NCLEX-RN on their first attempt, and 100 percent of BSN graduates are employed six months after graduation.