Jul 18 2023
Vice President Kamala Harris Visits Coppin State University to Announce $20 Billion in Clean Energy Grants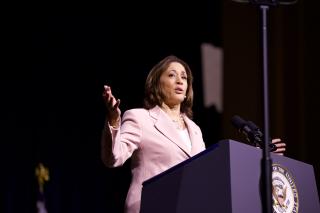 Vice President Kamala Harris visited the campus of Coppin State University on July 14, 2023, to announce two grant competitions providing $20 billion in grant dollars to invest in projects designed to reduce pollution, expand clean energy opportunities, and advance environmental justice. 
"We have seen around our country where communities have been choked by drought, have been washed out by floods and decimated by hurricanes," said Vice President Harris. "Here in Baltimore, you have seen your skies darkened by wildfire smoke and you have seen the water of the Chesapeake Bay rise threatening homes and businesses that have stood for generations. It is clear the clock is not only ticking, it is banging, and we must act." 
Vice President Harris was welcomed to campus by Coppin State University President Anthony Jenkins and joined by Environmental Protection Agency Administrator Michael Regan, U.S. Senator Chris Van Hollen (D-MD), U.S. Senator Tom Carper (D – DE), U.S. Senator Ed Markey (D-MA), Congressman Frank Pallone (D- NJ), Congressman David Trone (D – MD),  Lt. Governor Aruna Miller, Maryland Comptroller Brooke Lierman, and Baltimore Mayor Brandon Scott for the announcement.
According to the Biden-Harris Administration, the funds will come through the $14 billion National Clean Investment Fund (NCIF), and the $6 billion Clean Communities Investment Accelerator (CCIA) competitions. The NCIF will provide grants to support two-to-three national clean financing institutions partnering with businesses in the private sector to financing for tens of thousands of clean technology projects nationwide. The Biden-Harris Administration has declared 40 percent of NCIF funds will go to low-income and disadvantaged communities, and underserved areas. Meanwhile, the NCIF will provide grants for between two and seven nonprofit organizations which will provide funding and technical assistance to community lenders financing clean technology projects.
Coppin State University is working on solutions and strategies to address climate concerns and clean energy through scholarship and research performed by faculty and students of various disciplines, as well as in its community work. 
Researchers with the Center for Nanotechnology focus on clean and renewable energy generation and storage.
"Coppin has an unwavering commitment to West Baltimore. As a leader in urban higher educa.tion, we are using our Center for Nanotechnology to focus on clean and renewable energy," President Jenkins explained.  "From that research, we are focused on finding solutions to climate issues that impact urban environments."
Coppin State University also leads the West North Avenue Development Authority, a collaborative initiative that seeks to revitalize West Baltimore by bringing new investment, and developing a comprehensive plan examining housing, transportation, economic development, commercial space, and green space along the West North Avenue corridor. The Coppin State University campus also features two LEED certified buildings in-use. The new College of Business, which is LEED Silver certified, is set to come online before the Fall 2023 semester.