Dec 21 2022
Coppin State University Police Host Inaugural Shop with a Cop Event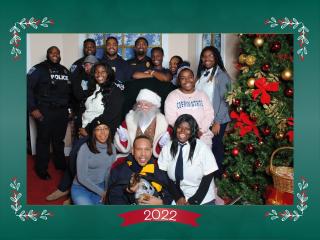 Ahead of the holidays, Coppin State University Police Department hosted three Coppin Academy students for a shopping trip to Arundel Mills Mall for the department's inaugural Shop with a Cop event, December 16. 
Coppin Academy students were selected for the Shop with a Cop event, based on essays they wrote about how the police and community can come together. The students were awarded a total of $1,000 to shop for the holidays. During the trip Coppin Academy students were paired with three Coppin State University students, who acted as peer ambassadors and will keep in touch with the high school students as they navigate the remainder of the school year.
This is just a small way for us to give back to our community during the holidays. We wanted it to be more than just providing the means for high school students to buy gifts; we wanted to give young people an opportunity to express their views and ideas related to policing and create constructive dialog," said Chief Dameon Carter. "Through Shop with a Cop, we have all gained a greater insight into how we can better support what we all want, and that's a safe environment. We hope this will be the first of many community-enriching engagements and look forward to partnering with surrounding businesses and stakeholders on future events."
The funds for the Shop with a Cop event were provided by the Coppin State University Office of Student Affairs.