May 3 2022
Coppin State University Establishes Transfer Agreement with Harford Community College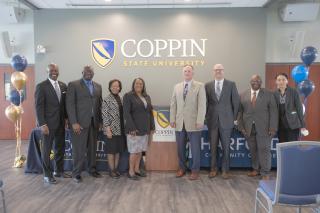 BALTIMORE – Coppin State University (CSU) continues to deliver on the promise of expanding access and giving students the opportunity to transform their lives through education - this time, through a transfer agreement with Harford Community College. The agreement, designed to reduce barriers and increase access to a four-year degree for community college students who are interested in careers in business, was signed May 3, 2022, by CSU Provost and Vice President for Academic Affairs, Leontye L. Lewis, Ed.D., and Harford Community College Vice President for Academic Affairs, Timothy Sherwood, Ph.D. The event took place in the Tawes Center ballroom, on the CSU campus.  
The transfer agreement facilitates acceptance into Coppin State University's College of Business, provided Harford Community College students meet all admission requirements. CSU and Harford Community College worked to align their degree offerings to improve the student experience and student outcomes. 
"This partnership takes away some of the stress and guesswork for students and outlines a clear path to obtaining a four-year degree," said CSU President, Anthony L. Jenkins, Ph.D. "This also reduces the barriers and costs, in terms of time and money, that can come with transferring to another institution. We want students to get to college and get through college with their diploma in-hand." 
The transfer agreement is part of the CSU College of Business Partners in Education initiative to build sustainable partnerships with area K-12 schools, as well as community colleges, and increase student applications and acceptances to CSU. In November 2021, CSU established a similar transfer partnership with Montgomery College.  
Students interested in participating in the transfer partnerships with Montgomery or Harford Community Colleges can contact Sadie R. Gregory, Ph.D., interim dean of the CSU College of Business, by email at srgregory@coppin.edu.