Jun 28 2022
Coppin State University and Community College of Baltimore County Launch Pathways to Success Program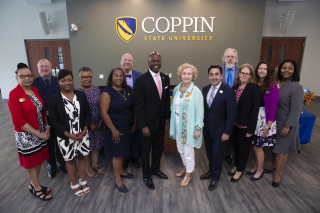 Coppin State University and Community College of Baltimore County (CCBC) have launched their Pathways to Success Program, a dual admission program allowing students to enroll in both institutions and make the road to obtaining their associate degree and bachelor's degree a more efficient and seamless process.
Students participating in the Pathways to Success Program will complete their Associate of Arts or Associate of Science degree at CCBC before enrolling in courses at Coppin State University. Students will be admitted to Coppin State University with Junior Standing (between 60 and 70 credits). Full-time students are anticipated to earn their bachelor's degree from Coppin State University within two academic years, provided they complete all necessary degree requirements.
"We are continually looking for ways to expand access to higher education, improve the student experience, and build clear pathways for students entering Coppin to leave with their degree in hand, and career ready for the workforce" said Coppin State University President Anthony L. Jenkins. "Our partnership with CCBC better position students for academic, personal, and professional success, by providing them with ample support from both institutions, and decreasing the time it takes to earn their degree, thus saving money. We believe this relationship will have a profound impact for our institutions, students, and state for years to come."
The agreement was signed by President Jenkins and CCBC President Sandra Kurtinitis, Ph.D. in a signing ceremony earlier this month.
"We are pleased to partner with Coppin State University to give CCBC students this opportunity to fast track their educational goals," said CCBC President Sandra Kurtinitis, Ph. D. "Upon graduation from CCBC, participating students will be halfway towards completing their bachelor's degree. Along the way, they will have access to both colleges' resources, a unique benefit, to help them succeed."
Students participating in the Pathways to Success Program at CCBC and Coppin State University will automatically receive a $1,000 scholarship applied to tuition and may be eligible for additional transfer scholarships based on their financial aid eligibility, enrollment status, and GPA.
For information, contact Anne Gamble, CCBC's Director of Transfer and Degree Acceleration at agamble@ccbcmd.edu.