May 17 2022
Coppin State University and College of Business Expands Partners in Education Program with Carroll Community College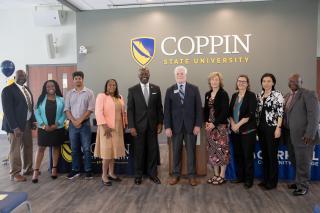 Today, Coppin State University and its College of Business expanded on its Partners in Education initiative, signing a new partnership agreement with Carroll Community College. The Partners in Education initiative is designed to reduce barriers and increase access to a four-year degree for community college students interested in careers in business. The agreement was signed by Coppin State University President Anthony L. Jenkins, Ph.D. and Carroll Community College President James D. Ball, Ed.D. in the Tawes Center ballroom, on the Coppin State University campus.  
"This partnership is a major part of our plan to not only grow the College of Business but grow our greater Coppin Community and make more of an impact here in Baltimore," said President Jenkins. "We want the students coming from Carroll Community College, and any of our other partner institutions, to have opportunities and experiences that will enrich their lives and help them achieve their personal, academic, and professional goals. Our hope is these students will study in the College of Business and take advantage of the full life of this campus." 
Coppin State University and Carroll Community College worked to align their degree offerings to improve the student experience and student outcomes. This also allows students to pursue a four-year degree while making efficient use of time and money. The transfer agreement facilitates acceptance into Coppin State University's College of Business, provided Carroll Community College students meet all admission requirements.  
"Carroll Community College's strategic priorities include strengthening transfer partnerships to increase transfer opportunities for our students," said President. Ball. "Coppin State University's programs are attractive for Carroll students due to the variety of degree programs offered, including management, marketing, management information systems, sports management, and accounting. Students will have many career options available upon transfer. We welcome this partnership as an exciting new pathway for our students." 
The Partners in Education initiative was created to build sustainable partnerships with area K-12 schools and community colleges, while also increasing student applications and acceptances to Coppin State University. Partners in Education agreements are also in place with Montgomery and Harford Community Colleges.  
Students interested in participating in the transfer partnerships with Montgomery, Harford, or Carroll Community Colleges can contact Sadie R. Gregory, Ph.D., interim dean of the CSU College of Business, by email at srgregory@coppin.edu.