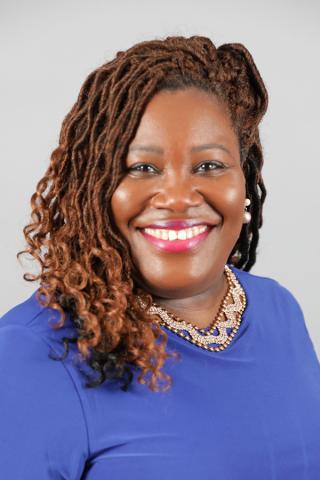 Dionne N. Curbeam
Ed.D, M.A.
Interim Vice President of Information Technology and Chief Information Officer
Science and Technology Center
4th Floor, Room 438
2500 W North Ave
Baltimore, MD 21216

Share Profile
Biography
Dr. Dionne Nicole Curbeam is the Deputy Chief Information Officer at Coppin State University (Baltimore, Maryland). In this role, Dr. Curbeam provides strategic leadership, vision, and direction to several units, including: Instructional Technology; IT Development and Training; Tier One Help Desk Support; EagleTech Center (Service Center, Open Computer Labs, IT Student Experiential Learning Program); Quality Assurance; and the campus website. Dr. Curbeam has been instrumental in spurring faculty innovation, increasing adjunct faculty's technology usage, transforming lab spaces to improve the student experience, expanding opportunities for students to learn about campus technologies, advancing virtual reality technologies, enhancing university's staff professional development opportunities, revamping Tier One campus support, and guiding the campus through a significant website redesign project. Dr. Curbeam has won several awards (three-time Blackboard Catalyst Award winner; Maryland Daily Record's Top 100 Women; Maryland Daily Record's VIP List; Woman of Color Rising Star Award, etc.), presented at numerous conferences (EDUCAUSE, Online Learning Consortium, Blackboard, etc.), earned multiple certifications (Prosci Certified Change Practitioner, Quality Matters Peer Reviewer, Quality Matters Trainer, Microsoft Innovative Educator, etc.) and has served on numerous boards and advisory councils (Maryland Professional Standards and Teacher Education Board, Maryland Association of Teacher Educators, Maryland Distance Learning Association Advisory Board, Blackboard Learn Advisory Council, Qwickly Client Advisory Group, etc.). Dr. Curbeam – who holds an Ed.D. from Bowie State University, M.A. degrees from Towson University and University of Maryland Baltimore County, and a B.S. degree also from Bowie – has professional and research interests in change management, technology adoption, organizational communication, and the impact of technology for student success. In addition to her high-impact career, Dr. Curbeam enjoys volunteering with various organizations, travelling, walking trails, and cheering for the best football team, the Baltimore Ravens.
Change Management
Professional Development
EdTech 
Online Learning and Distance Education
Digital Transformation
Leadership