About
Build a strong foundation in management for the skills you need to lead. 
Introduction
Why minor in Management?
Every organization and business has a lot of different departments and functions that must collaborate to meet overall goals. Human resources finds the people with the talent to turn concepts into products. Operations dictates the processes to design, build, and produce products. Marketing determines the messaging and campaigns that puts these products in front of consumers. Management has the global vision of how all these departments and operations should work together.  
Simple and complex organizations both need leaders, managers, and supervisors to set goals, make data-information decisions, and inspire others. Learn and cultivate valuable skills that apply to any industry. If you dream of being at the top, consider a management degree to help you get there.  
You can choose to major or minor in Management. 
Learn how to: 
Apply management principles and concepts to real-world scenarios  

Become aware of the impacts of globalism and multiculturalism on organizations 

Use quantitative analysis and decision-making techniques to solve business problems 

Show understanding of legal and ethical management frameworks 

Demonstrate understanding of leadership theories and characteristics 

Apply understanding of team-building theories and characteristics 

Demonstrate understanding of key human resource functions and issues, including diversity, motivation, and compensation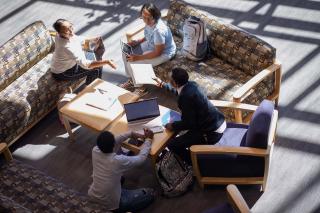 750+ Courses
The Coppin State University Academic Catalog. It's full of skill-building courses that inspire and prepare you to be in-demand professionals and transformational leaders.
Minor Requirements for College of Business Students
You must earn at least 18 management credits to graduate with a minor in management. Remember, you must complete all minor and prerequisite courses with a grade of C or higher, except for in these courses:  
MGMT 320, Principles of Management 

MGMT 305, Business Communications
Remember, you must complete all prerequisite and minor courses with a grade of C or higher.
Minor Requirements for Non-College of Business Students
Students in non-College of Business programs can earn a minor in management, but must satisfy specific course requirements. These required courses include:  
ECON 103, Introduction to Business and Entrepreneurial Economics 

MGMT 320, Principles of Management 

12 credits of MGMT electives at or above the 300 level 
Related Business Programs
Entrepreneurship and Innovation