Entrepreneurship and Innovation
Degree Type
Undergraduate Certificate
About
Learn the business skills to launch your startup successfully.
Introduction
The Entrepreneurship and Innovation Certificate is a one-year, credit-bearing credential offered in conjunction with programs at the College of Business (COB) Center for Strategic Entrepreneurship (CSE). The certificate aligns with the Coppin State University (CSU) mission of "empowering students, promoting community revitalization, and strengthening relationships with local, national, and global partners."
Courses provide participants with the legal, marketing, financial, and technology-related knowledge and skills required to successfully establish and position business startups for sustainable growth. Flexible scheduling helps learners manage the multiple demands faced by emerging entrepreneurs. Opportunities for practical exposure to the entrepreneurial ecosystem are emphasized.
Learn how to:
Start, manage, and grow your business in a competitive market

Market your business from startup through infancy and early stages of growth

Prepare a marketing plan, develop a marketing budget, plan a sales presentation, and train a sales force

Apply laws covered to selected business decision-making situations

Manage innovation and technology in competitive business situations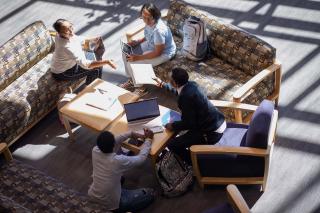 750+ Course Options
The Coppin State University Academic Catalog has a wide variety of skill-building courses designed to inspire and prepare you to be in-demand professionals and transformational leaders.
Program Requirements
| Course | Credits | Name |
| --- | --- | --- |
| BUSI 310 | 3 | Business Law |
| ACCT 202 | 3 | Principles of Managerial Accounting |
| MGMT 325 | 3 | Entrepreneurship in the New Economy |
| MKTG 370 | 3 | Sales and Marketing for Entrepreneurs |
| MGMT 375 | 3 | Management of Technology |
| MGMT 420 | 3 | Small Business Management |

 
Related Business Programs
Sample Course Plan
Be sure to connect with your academic advisor to plan your semester courses. The plan below is just an example—your journey may have different requirements.
Fall or Spring Semester (15 credits)
| Course | credits | name |
| --- | --- | --- |
| BUSI 310 | 3 | Business Law |
| ACCT 202 | 3 | Principles of Managerial Accounting |
| MGMT 325 | 3 | Entrepreneurship in the New Economy |
| MKTG 370 | 3 | Sales and Marketing for Entrepreneurs |
| MGMT 420 | 3 | Small Business Management |
Winter Semester (3 credits)
| course | credits | name |
| --- | --- | --- |
| MGMT 375 | 3 | Management of Technology |