Degree Type
Undergraduate Certificate
About
Learn management skills in the competitive world of esports.
Introduction
The Department of Management and Marketing within the College of Business offers the Esports Management certificate program. The certificate program provides participants with the knowledge, skills, and experience to successfully enter the esports industry in entry and mid-level management positions. Flexible scheduling enables learners to complete the program in one year or less and the credit-bearing credentialed program is offered in conjunction with degree programs in the College of Business.
Course Requirements
| Course | Credits | Name |
| --- | --- | --- |
| ESPT 300 | 3 | Introduction to Esports |
| ESPT 310 | 3 | Introduction to Esports Coaching |
| ESPT 350 | 3 | Esports Branding & Marketing |
| ESPT 410 | 3 | Esports Communications |
| ESPT 420 | 3 | Esports Operations |
Course Descriptions
Introduction to Esports (ESPT 300)
This course teaches the history of Esports from the vantage point(s) of developers, athletes, fans, sponsors and media. You will examine relationships in the Esports communities and understand how their different roles affect each other. You will explore Esports from behind the scenes and learn what it means to be involved in Esports. of an organization and how it builds a brand.
Introduction to Esports Coaching (ESPT 310)
This course is designed to provide that systematic process of incorporating practical esports coaching experience with formal educational coaching course materials.
Esports Branding & Marketing (ESPT 350)
This course explores the unique marketing and branding opportunities through the esports community, organizations and teams. This course will give you practical details of the esports universe and how to market engage that audience.
Esports Communications (ESPT 410)
In this class, you will learn how to present effectively to decision makers in esports. In this hands-on course you will practice with all major type's communications: emails, written proposals, and presentations. You will learn how to apply effective communication strategies and presentation tactics to specific esports scenarios.
Esports Operations (ESPT 420)
This course will teach you esports operations and project management, Learn the essential components of building, managing, opening and closing of esports related events and projects.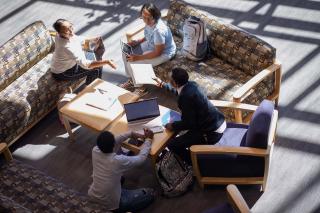 750+ Course Options
The Coppin State University Academic Catalog has a wide variety of skill-building courses designed to inspire and prepare you to be in-demand professionals and transformational leaders.
Related Business Programs