Health Information Management, Master's
Degree Type
Master of Science
About
The healthcare industry demands innovations from the fields of business, science, and information technology—learn the skills to make the industry demand you too.
Introduction
Coppin State University's Master of Science (MS) in Health Information Management (HIM) is designed to prepare students and professionals for senior-level career advancement. The MS in HIM graduate degree aims to provide advanced academic preparation and experiences for professionals focused on health informatics, health services administration, quality improvement, and risk management. The MS in HIM program is designed to facilitate the career advancement of practicing health information management professionals; however, it also facilitates the growth of those in clinical practice, laboratory science, or those committed to joining the health information discipline as new healthcare professionals such as nursing, health and health education, information technology and business management.
The MS in HIM program will be offered year-round, in the evenings to accommodate the working professional.
Educational Objectives and Student Learning Outcomes
Upon completion of the requirements for the MS in HIM degree, the graduate will have obtained:
Advanced knowledge and skills in focus areas such as health services administration, project management, quality and risk management and health informatics.
Knowledge in strategic decision making to move an organization's mission and goals toward stated objectives.
Skills to evaluate, select, and implement advanced principles and approaches to electronic health record (EHR) technology and work processes.
Qualifications to be positioned to take on administrative positions in a multitude of provider organizations and related entities in the healthcare arena.
Knowledge to plan, organize and manage a project involving a multidisciplinary team of professionals from inception to completion.
Knowledge and skills to establish quality management programs using a multidisciplinary prospective.
Communication skills and strategies to interact with multidisciplinary professionals.
Did You Know?
The MS in HIM program incorporates the disciplines of quality improvement and risk management, law, health service administration, research, finance, and information systems into one curriculum. Students graduating from this program are specialists in ensuring health information accessibility, privacy, and security; and in analyzing patient data for financially sound decision making and strategic planning.
Request Information
Admission Requirements
The MS in HIM is an advanced degree that builds on foundational skills learned in an undergraduate program. Students may also enroll in related courses in these areas prior to acceptance into the master's program:
Health Statistics
Research
Accounting
Advanced Computers
Admission requirements include:
Bachelor's degree in any field from an accredited institution
Admission to Coppin State University (online application)
Minimum 3.0 cumulative grade point average (GPA) on a 4.0 scale. We may offer conditional acceptance for prospective students with less than a 3.0 cumulative GPA.
Demonstrate prior knowledge in or students may provide a portfolio for to earn Credit for Prior Learning (CPL)
Resume or curriculum vitae
National certification in your field, if applicable
Official transcripts from each college or university attended prior to CSU and College of Health Professions' School of Allied Health
Three (3) professional recommendations that highlight your personal and professional qualifications
Application essay detailing goals, objectives, and reason(s) for pursuing the MS in HIM
Personal interview
Submit all application materials to the School of Graduate Studies.
Why Attend the College of Health Professions?
Fall and Spring Admission
Fulltime Enrollment
Part-time option
Consistent cohorts
Student Support Services
Personalized academic and career advising
Expert faculty with HIM-field experience
Leadership development
Professional mentoring
Affordable tuition and fees
Career Trends
According to the Bureau of Labor Statistics, employment of HIM professionals is expected to grow much faster than the average for all occupations through 2030. More than half of new HIM graduates with a master's degree start with salaries in the $75,000 to $100,000 range. With our MS in HIM plan of study, the School of Allied Health is prepared to assist with meeting HIM workforce needs.
Plan of Study
The length of the MS in HIM program is two (2 1/2) years full-time (once all pre-requisites have been completed). Following successful completion of the core courses, in the summer of year 2 and the final semester students can select a focus area of interest in either, health informatics, quality improvement and risk management, or health services administration to enhance their knowledge in one of these domains.
Total Program Credits: 47
Fall Semester (9 credits)
| Course | credits | name |
| --- | --- | --- |
| HIM 500 | 3 | Issues and Trends in Health Care |
| HIM 501 | 3 | Introduction to Health Informatics |
| HIM 502 | 3 | Legal Issues of Health Information & Informatics Management |
Spring Semester (9 credits)
| course | credits | name |
| --- | --- | --- |
| HIM 505 | 3 | Financial Management for Health Care Organizations |
| HIM 506 | 3 | Health Care Organization & Delivery |
| HIM 507 | 3 | Health Information Clinical Classification Systems |
Summer Semester (6 credits)
| course | credits | name |
| --- | --- | --- |
| HIM 503 | 3 | Electronic Health Record Design & Planning |
| HIM 504 | 3 | Human Resource Management in Health Care |
Fall Semester (9 credits)
| Course | credits | name |
| --- | --- | --- |
| HIM 508 | 3 | Research Methodology of Health Information |
| HIM 509 | 3 | Data Warehouse and Mining |
| HIM 510 | 3 | Advanced Concepts In Clinical Information Systems |
Spring Semester (8 credits)
| Course | credits | name |
| --- | --- | --- |
| HIM 511 | 3 | QI in Health Care |
| HIM 780 | 4 | Capstone Project |
| HIM 781 | S or NS | *Internship (Optional) |
| HIM 782 | 2 | RHIA Prep |
*Total Credits minus track courses
Summer Semester (6 credits)
| Course | credits | name |
| --- | --- | --- |
| HIM XXX | 3 | Focus area course #1 |
| HIM XXX | 3 | Focus area course #2 |
Fall Semester (9 credits)
| Course | credits | name |
| --- | --- | --- |
| HIM XXX | 3 | Focus area course #3 |
| HIM XXX | 3 | Focus area course #4 |
| HIM XXX | 3 | Focus area course #5 |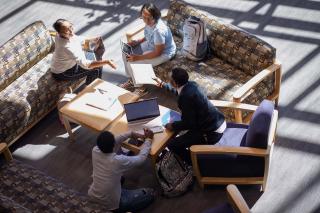 750+ Course Options
The Coppin State University Academic Catalog has a wide variety of skill-building courses designed to inspire and prepare you to be in-demand professionals and transformational leaders.