Doctor of Nursing Practice (BSN to DNP)
Introduction
There are 2 degree pathways. Based on a the admission application, a student can seek admission to the BSN to DNP degree or Post-Master's certificate to DNP degree. The BSN to DNP pathway includes courses for preparation as a Family Nurse Practitioner (FNP). The pathways can be completed in a traditional or hybrid format. The DNP pathways also include executive-format courses on Fridays and Saturdays for some classes. Students have the option to complete the program full-time or part-time.
Because this is a practice-focused program, each student must complete a total of 1000 clinical practice hours. At least 300 hours must be completed as part of the DNP program, but students may transfer up to 700 hours from an accredited MSN degree program. Students in the BSN to DNP pathway will accrue 1,000 practicing hours while enrolled. Each student must successfully also complete a DNP Scholarly Project as a requirement for graduation.
Learn how to:
Integrate advanced knowledge from the sciences, humanities and ethics with clinical expertise to support advanced nursing practice.
Demonstrate knowledge and evaluate nursing theories and concepts as a basis for advanced nursing practice.
Plan, engage and participate in clinical scholarship for evidence practice.
Provide and design care for vulnerable, underserved, culturally diverse clients utilizing health promotion strategies.
Plan, initiate and evaluate changes in health care policy and the healthcare system.
Analyze epidemiological, statistical, environmental and relevant data regarding individuals, families and the community.
Integrate nursing science with emerging technology and information systems to identify, gather, process, manage and evaluate healthcare outcomes, the healthcare delivery system and investigate healthcare issues to improve quality.
Develop and evaluate organizational and systems leadership for quality improvement and systems thinking.
Demonstrate and integrate interprofessional collaboration for improving patient and population health outcomes to foster continuity of care.
Advocate for health care and policies that promote client health and the advancement of nursing as a profession.
Utilize professional standards in advanced practice nursing roles.
Develop and evaluate new practice approaches based on nursing theories and theories from other disciplines.
Demonstrate inter and intra professional effective communication necessary for activities that enhance the care environment to include planning, implementation and evaluation of care to target populations.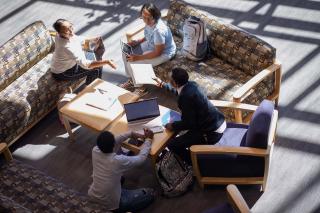 750+ Course Options
The Coppin State University Academic Catalog has a wide variety of skill-building courses designed to inspire and prepare you to be in-demand professionals and transformational leaders.
BSN to DNP Pathway Admission Requirements
Bachelor's degree in Nursing from a program accredited by the Accreditation Commission for Education in Nursing (ACEN) or Commission on Collegiate Nursing Education (CCNE) or an equivalent degree from a comparable foreign university.
A minimum GPA of 3.0 in a baccalaureate degree program in nursing
Official transcripts from undergraduate nursing programs
Unencumbered Registered Nurse Licensure in Maryland or a compact state
Three professional letters of reference
Resume or Curriculum Vitae
Essay identifying goals, objectives, and primary area of interest in pursuit of the DNP.
Interview with Graduate faculty*
Writing sample from undergraduate program (could be paper submitted, Capstone etc.)
* Interviews will be held with students who have met admission requirements.
DNP Mission and Philosophy
The mission of doctoral education, offering a Doctor of Nursing Practice degree, is to prepare graduate nurses with advanced knowledge who will practice at the most advanced level of nursing. The graduate program of the School of Nursing derives its purpose directly from the underlying philosophy of the School of Nursing. The graduate program builds on the foundation of undergraduate and graduate education; the program prepares professionally educated nurses who are capable of intellectual and professional leadership to provide high quality clinical nursing to populations, focusing on vulnerable, underserved urban and global communities.
The faculty of the School of Nursing believe that graduate education prepares the nurse with a strong theoretical foundation, and provides increased opportunities to utilize analytic methods to critically appraise existing literature and other evidence to determine and implement the best evidence for practice.
The faculty believe that baccalaureate education prepares the graduate for the emerging roles of the beginning nurse generalist and provides the foundation for graduate study. Professional nursing education is built on theoretical foundations of the humanities, liberal arts and the basic, and applied sciences. These are used in conjunction with nursing science in a creative and disciplined approach to provide nursing care under conditions of change.
Faculty believe that nursing is a scientific and clinical practice discipline, which facilitates the promotion, maintenance, and restoration of adaptive responses in clients, through therapeutic nursing interventions.
Graduates incorporate advanced theory, research, advocacy, leadership and clinical skills with an emphasis on independent and interprofessional practice required to assume responsibility and accountability for the health promotion, assessment, diagnosis, and management of culturally diverse clients' problems across settings.
Through its program of study and outreach service, the School of Nursing fosters the University's unique mission of focusing on the problems, needs, and aspirations of the people from vulnerable, underserved urban and global communities. Faculty believe that there is a dynamic exchange and interdependence between the individual and his or her internal, and external environments at it relates to the provision of culturally sensitive care.
Major areas of concentration are directed toward reaching applicants from diverse backgrounds who have commitment to continual personal and professional growth in serving the urban and global communities.
As students consistently demonstrate analytical abilities, they exhibit an increased ability to incorporate emerging information systems and technology for the improvement and transformation of healthcare. Faculty believe education is an individual process in which the educator and learner have shared responsibility.
Graduation Requirements
All DNP students must demonstrate and complete the following criteria to be eligible for graduation:
Successful completion of all courses taken with a cumulative G.P.A. of 3.0. Must have a grade of B or better in all coursework.
Successful completion of a DNP Scholarly Project.
Recommendation of the faculty.
Completion of 1000 practicum hours as a component of the DNP program.
Study Plan
Be sure to connect with your academic advisor to plan your semester courses. While most graduate students follow this study plan, your journey may have different requirements.  
Fall Semester (10 credits)
| Course | credits | name |
| --- | --- | --- |
| NURS 582 | 3 | Research in Nursing |
| NURS 583 | 3 | Nursing Theory |
| NURS 702 | 3 | Advanced Principles of Pathophysiology |
| NURS 701 | 1 | Scholarly Writing course |
Spring (12 credits)
| Course | credits | name |
| --- | --- | --- |
| NURS 830 | 3 | Research Methods and Design for Nursing Practice |
| NURS 831 | 3 | Theoretical Perspectives in Nursing Practice |
| NURS 832 | 3 | Foundations for Evidenced Based Practice |
| NURS 835 | 3 | Epidemiology |
Summer (4-6 credits)
| Course | credits | name |
| --- | --- | --- |
| NURS 703 | 1 | Introduction to Advanced Health Assessment 3-week session |
| NURS 704 | 3 | Advanced Health Assessment 6-week session |
| NURS 829 | 1-2 | DNP Project I |
Fall Semester (10 credits)
| Course | credits | name |
| --- | --- | --- |
| NURS 705 | 3 | Pharmacology for Advanced Nursing Practice |
| NURS 706 | 3 | Family Primary Care of Adults |
| NURS 707 | 4 | Family Primary Care of Adults Practicum |
Spring Semester (11-12 credits)
| Course | credits | name |
| --- | --- | --- |
| NURS 708 | 3 | Primary Care of Children and Families |
| NURS 709 | 4 | Primary Care of Children and Families Practicum |
| NURS 841 | 1-2 | DNP Project II |
| NURS 834 | 3 | Analysis of Health Care Delivery Systems |
Summer (8-9 Credits)
| Course | credits | name |
| --- | --- | --- |
| NURS 710 | 3 | Reproductive Health |
| NURS 711 | 4 | Reproductive Health Practicum |
| NURS 842 | 1-2 | DNP Project III |
Fall Semester (5-6 credits)
| Course | credits | name |
| --- | --- | --- |
| NURS 712 | 1-2 | Primary Care Role Practicum I |
| NURS 837 | 3 | Nursing Information Technology and Analysis |
| NURS 846 | 1 | DNP Project IV Implementation |
Spring Semester (9 credits)
| Course | credits | name |
| --- | --- | --- |
| NURS 836 | 3 | Health Policy and Analysis |
| NURS 847 | 1 | DNP Project V Evaluation and Dissemination |
| NURS 833 | 3 | Global Health |
| NURS 713 | 2 | Primary Care Role Practicum II |
Nursing is in the Helene Fuld School of Nursing in the College of Health Professions.