Center for Nanotechnology
Research Equipment
Mon - Fri: 9:00 a.m. to 5:00 p.m.
Science and Technology Center Room 360
The Center for Nanotechnology is equipped with state of the art instrumentation of research purpose. These instruments are located in the ultra-modern Science and Technology Center of Coppin State University.
Equipment User Fees
The general public, including industries and other academic institutions, are welcome to use instrumentation at the center for nanotechnology. However, a nominal equipment user fee is charged in order to recover cost associated with operation of the center such as maintenance costs, lab supplies, and labor.
TRANSMISSION ELECTRON MICROSCOPE (TEM)
The Center for Nanotechnology is equipped with a JEOL JEM-1400 series 120kV Transmission Electron Microscope located in the basement of the science and technology center at Coppin State University. Transmission Electron Microscope Images are created as a result of the interaction of a beam of electrons with an ultrathin sample as the beam is transmitted through the sample. It is used for the analysis of microscopic structures in a several scientific fields including nanotechnology, pathology, and quality control.
The JEOL JEM-1400 series 120kV Transmission Electron Microscope is easy to use and allows for high resolution imaging and analysis. It has a 120 KV acceleration voltage and LaB6 Filament illumination system. The instrument is also equipped with Gatan CCD camera and also an Energy Dispersive X-ray microanalysis system. The microscope features high resolution/high contrast imaging, outstanding S/TEM analytical performance, elemental mapping with the latest large-area SDD detectors, cryomicroscopy, 3D tomography, and montaging.
---
FIELD EMISSION SCANNING ELECTRON MICROSCOPE (FESEM)
The center for nanotechnology is equipped with a state of the art of scanning electron microscope for the analysis of microscopic materials. Scanning electron microscopes are a type of microscopes that bounces electrons (secondary) off of the surface of sample materials to generate images. Like other electron microscopes, scanning electron microscopes produce images with very high resolution due to the fact that electrons have very short wavelength.
The field emission scanning electron microscope (JSM-7100FT) at center is manufactured by JEOL USA, Inc. The JSM-7100FT is a highly versatile, easy-to-use analytical field emission SEM that offers a new level of expanded performance. This high resolution SEM is ideal for both imaging and analysis of nanostructures, and determining chemical composition of the sample through X-ray spectroscopy. By combining large beam currents with a small probe size at ANY accelerating voltage, the JEOL JSM-7100FT dramatically increases analytical resolution to the sub 100nm scale.
The FESEM has a resolution of 12 nm at 30kv and 3 nm at 15 kv. The magnifying power of the electron microscope ranges from 10 times to a million times. Schottky thermal field emitter is the electron microscope source. The FESEM is also equipped with a JED-2300 Energy dispersive microanalysis system that is used for elemental analysis.
---
ATOMIC FORCE MICROSCOPE (AFM)
The surface morphological characteristics of the nanomaterials are experimentally evaluated at the center for nanotechnology using Atomic Force Microscopy (AFM) manufactured by NT-MDT (Model: Solver next, NT-MDT). AFM atomic force microscopy (contact and non-contact mode). Sample size of 20mm diameter, 10 mm height. Scan range of 100x100x10µm with closed loop capacitance sensors. All possesses built-in optical microscope, motorized xy-positioning (5x5 mm, step size 0.3µm), and available field coverage of 3.4 mm-0.53 mm and resolution of 2 µm.
---
NANOLOG®  SPECTROFLUOROMETER
The Center for Nanotechnology is also equipped with special fluorescence instruments. One these is the Nanolog®  Spectrofluorometer from HORIBA Company which is a special Spectrofluorometer specifically designed for research in nanotechnology and the frontiers of nanomaterials. The NanoLog® Spectrofluorometer detects fluorescence in the near-IR from 800 to 1700 nm (optional multi-channel detection to 2 µm, single-channel detection to 3 µm), with visible and UV options possible. With the NanoLog® there is a specially designed software ideal for classifying SWNTs, performing energy transfer calculations, saving custom routines, and instrument layouts. A complete spectrum can be scanned as fast as a few milliseconds, and a full excitation-emission matrix scan can be taken in as little as seconds.
---
DELTAFLEX MODULAR FLUORESCENCE LIFETIME SYSTEM
The Center for Nanotechnology is equipped with a Delflex modular fluorescence lifetime system manufactured by HORIBA Scientific. It is easy to use and is highly sensitive. It is a compact, modular, time-correlated single photon counting (TCSPC) based lifetime system. It is capable of measuring luminescence lifetimes from 25ps to 1sec, depending on the choice of light source and offers picoseconds time resolution over a wavelength range from the UV to the near infrared (NIR). The modular nature of the design means it can be easily extended and upgraded using the comprehensive range of products. Delflex modular fluorescence lifetime system is composed of an optical system, light source, detector, single-photon counting module, data station and decay analysis software. 
---
SOLAR SIMULATOR
The cell performance was measured using 150 W fully reflective solar simulator with a standard illumination of air-mass 1.5 global (AM 1.5 G) having an irridance of 100 mW/cm2 (Sciencetech Inc.), London, Ontario, Canada. Reference 600 Potentiostat/Galvanostat/ZRA from GAMRY Instruments (Warminster, PA). 
---
DYNAMIC LIGHT SCATTERING
Nanomaterials have also been characterized at the center using a dynamic light scattering instrument from Horiba. The LB-550 measures particle size from 1nm to 6µm and a concentration range from ppm up to 40% solids, all in as little as 30 seconds, making it ideally suited to a wide range of applications. The LB-550 instrument can measure samples without dilution. With a standard analysis time of one to two minutes, the LB-550 is the fastest and most flexible particle size analyzer for the nanometer range of sizes. The Fourier-Transform/Iterative Deconvolution technique provides accurate results not only for average particle size, but also for distribution shape and identification of multiple modes, all without operator selections, a feature not found in most Photon Correlation Spectroscopy (PCS) instruments. Elimination of the need to select from alternative models and evaluating fitting errors provides confidence in the results and faster data analysis.
The instrument is equipped with a temperature-controlled cell holder and has a range of 5-70 degrees C for samples where size may change with temperature. Standard removable glass or disposable plastic cuvettes are used to eliminate sample cross-contamination, ease cleaning, and improve usability. Cells are available for sample volumes from 0.1-15ml. For high concentration samples where viscosity may affect results, a built-in viscometer option is available to provide accurate measurements at the time of analysis.
---
FOURIER-TRANSFORM INFRARED


Left: Fourier-transform Infrared spectrum of bare titanium dioxide. Right: Fourier-transform Infrared spectrum of titanium dioxide-pomegranate film in KBr pellet.
---
THERMOSCIENTIFIC DXR SMART RAMAN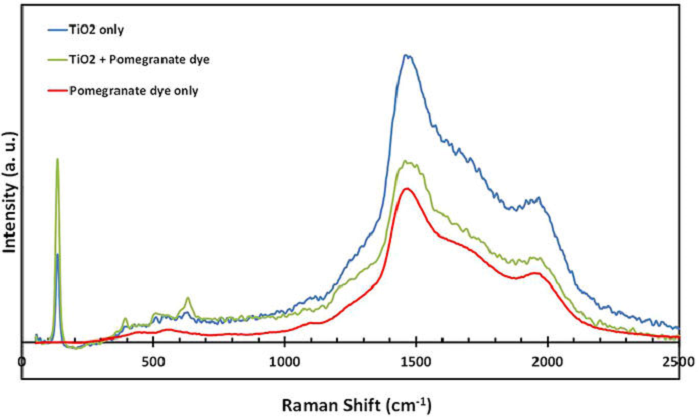 Raman spectra of sample films at room temperature of: Titanium dioxide (blue); and Titanium dioxide + Pomegranate dye (green); Pomegranate dye (red).
---
SHIMADZU ABSORPTION SPECTROFLUOROPHOTOMETER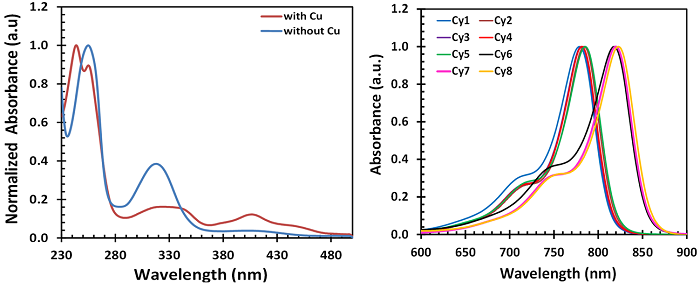 Left: Absorption spectra of N, N-Ethylene bis (Salicylidene aminato) with copper (blue) absorption and without copper (red); Right: Absorption spectra of eight cyanine dyes measured in ethanol (10 µM) showing differences in absorption between Cy1–Cy5 and Cy6–Cy8.
---
SHIMADZU FLUORESCENCE SPECTROFLUOROPHOTOMETER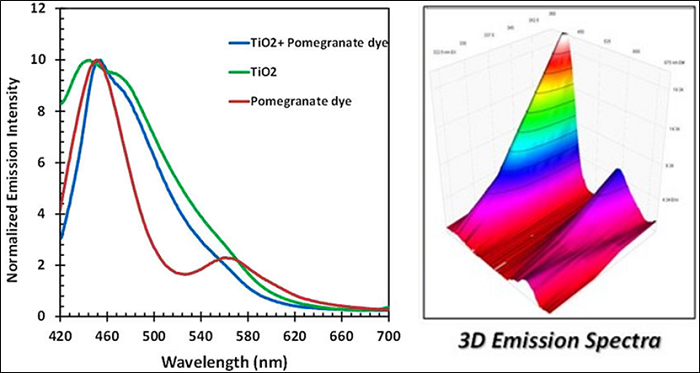 Left: Emission spectra of bare titanium dioxide (green), pomegranate dye extract (red) and pomegranate sensitized TiO2 film on FTO glass (blue). Right: 3D Emission Spectra of Pomegranate dye extract
---
THERMOGRAVIMETRIC ANALYSIS (TGA)
Thermogravimetric analysis at the center is performed on a Thermogravimetric Analyzer (Discovery TGA, TA Instruments-Waters LLC, New Castle, DE ) and a conventional oven at 700 ◦C. Thermogravimetric analysis (TGA) also referred sometimes as thermal gravimetric analysis is used to analyze samples based on the ability of the sample complex to withstand higher temperatures. Typically the sample is heated and the mass is measured over time with change of temperature. 
---
NUCLEI MAGNETIC RESONANCE SPECTROMETER
Another importantant intrument available for analysis of compounds is the Nuclei Magnetic Resonance (NMR). A 400 MHz NMR located on first floor of the Science and Technology Center at Coppin State University is available both for teaching and research.
---
Hi-TEMP VACUUM OVEN & SPIN COATER
image here!
Titanium dioxide paste is printed on FTO glass for solar cell fabrication using WS-650 Series Spin Processor from Laurell Technologies Corporation.
---
OTHER INSTRUMENTS AVAILABLE TO THE CENTER FOR NANOTECHNOLOGY
Transmission Electron Microscope (TEM) - (JEOL)
Field Emission Scanning Electron Microscope (JEOL)
Atomic Force Microscope (AFM) – NT-MDT
DeltaFlex Modular Fluorescence Lifetime System, HORIBA
Hi-temp Vacuum Oven, Thermo Scientific
LB-550 Dynamic Light Scattering Particle Size Analyzer, HORIBA
Nanolog Fluorescence System, HORIBA
BioSpec-nano spectrophotometer, Shimadzu
Hitachi U-2910 Spectrophotometer
Hitachi F-250 Fluorescence Spectrophotometer
Solar Simulator, SCIENCETECH
Teraspectra nanoscanner, Applied Research and Photonics Inc.
Poteniostat/ Galvanostat/ZRA, Gamry Instruments
Spin Coater, Laurell Technologies
Thermoscientific REVCO 3.7 oC Fridge
Thermoscientific REVCO 16.9 oC Fridge
ADVANCE III 400 NMR Spectrometer
Shimadzu RF-5301 PC Spectrofluorphotometer
Shimadzu Fluorescence Spectrofluorphotometer
Direct-Q ®-3-R-Ultrapure water
AB SCIEX Q-trap 5500 Mass Spectrometer
LCMS Agilent Tech
Thermogravimetric Analyzer (TGA)
Buck Scientific Model 910 Gas Chromatograph
Agilent Technologis 7000C GC/MS Triple Quad
Atomic Absorption Spectrometer
Thermoscientific DXR Smart Raman
Thermoscientific IS50 FT-IR
Cyclic Voltammeter
Theroscientific WX+ULTRA Series Centrifuge
B U Chi Rotorvapor R-125 & Vacuum Pump
J-1500 CD spectrometer
Analytical balance/ Stirring Hot plates/Desiccators/Vortexer/Sonnicator
Computers/Printers
Contact Us
Thank you for your interest in the Center for Nanotechnology at Coppin State University. We welcome any questions and feedback you have. If you would like more information on anything you have read about our Center for Nanotechnology, please reach out to the following people: