Degree Type
Bachelor of Science
About
Learn how to understand the social dynamics behind our world's biggest problems and apply the skills needed to solve them.
Introduction
Social science is a field of study that incorporates elements of sociology, psychology, anthropology, and political science, among others. It encourages comprehensive analytical thinking for understanding any topic related to society and culture.
Some of the challenges we are facing today are some of the biggest problems the world has ever known. Racial injustice, gender inequality, infrastructure disparity, global inequity in health, medical, and education access are all issues that demand a deeper understanding of race, behavior, government, and sociopolitics. If you want to be part of the solutions, you must first learn about the institutions that brought us to our current breaking point.
Learn how to:
Apply knowledge of methods, vocabulary, and concepts of social sciences
Use technology to access, capture, analyze, and report social science data and literature
Understand and apply social science research methods to social issues and policy discussions
Critically analyze urban issues within larger historical and global contexts
Demonstrate and apply knowledge and skills to research and community engagement efforts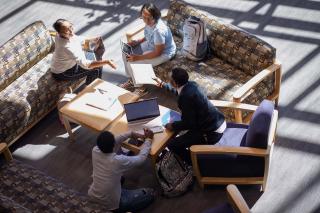 750+ Course Options
The Coppin State University Academic Catalog has a wide variety of skill-building courses designed to inspire and prepare you to be in-demand professionals and transformational leaders.
Our program prepares students to be social scientists who take a critical look at society and culture. With courses that intersect across political science, urban studies, nonprofit leadership, sociology, and anthropology, our students develop analytical and problem-solving skills that lead to careers in urban planning, social work, public health, human services administration, and public policy. Graduates go on to earn advanced degrees, and work in human services fields, including education, social services, youth services, counseling, community development, healthcare, and labor relations.
There is more information about major requirements in the Program Requirements section on this page.
Where can you go with a Social Science degree?
Hard skills like coding and accounting aren't the only kind of skills in demand. A social science degree exposes students to a variety of different fields, including anthropology, sociology, economics, political science, and many others. Learning skills across these fields ensures you're cultivating the soft skills to approach any organizational challenge.
Program Requirements
To graduate with a Bachelor of Science in Social Science, students must complete 120 credit hours. These credit hours split among General Education Requirements (GERs), foundation and core courses, as well as electives. Expand each section below to see the range of course offerings, and different math course requirements by department.
Core Courses (30 credits)
Course
Credits
Name

ANTH 207

or

SOCI 403

3

 

3

Cultural Anthropology

 

Sociology of Race and Ethnicity

SOSC 304
3
Introduction to Public Administration
SOSC 310
3
Introduction to Basic Statistics
SOSC 407
3
Social Research Methods
SOSC 430
3
Social Science Applications
POSC 301
3
U.S. Government
SOCI 302
3
Social Psychology

ECON 201

or

POSC 300

3

Introduction to Economics

or

American Political Economy

POSC xxx
3
300 or 400 Advisor-approved POSC course
XXXX xxx
3
400 level Anthropology Political Science, Social Work, or Sociology
Sample Degree Plan
This plan is only for example purposes. Your academic journey may be slightly different from another student's journey, so be sure to always communicate with your academic advisor before finalizing your course schedule.
Fall Semester (16 credits)
| Course | credits | name |
| --- | --- | --- |
| ENGL 101 | 3 | English Composition I |
| SOCI 201 | 3 | Introduction to Sociology |
| MATH 125 | 3 | Math for Liberal Arts |
| FRSEM 101 | 1 | Freshman Seminar |
| HIST 205 | 3 | African American History I |
| IDIS 102 | 3 | Music and Dance |
Spring Semester (15 credits)
| course | credits | name |
| --- | --- | --- |
| ENGL 102 | 3 | English Composition II |
| PHSC 103 | 3 | Technology and Human Affairs |
| SPCH 105 | 3 | Speech |
| MISY 150 | 3 | Technology Fluency |
| HIST 206 | 3 | African American History II |
Fall Semester (16 credits)
| Course | credits | name |
| --- | --- | --- |
| ANTH 207 | 3 | Cultural Anthropology |
| PHIL 102 | 3 | Logic |
| WLIT 207 | 3 | World Literature |
| BIOL 101 | 4 | Biological Sciences |
| XXXX xxx | 3 | General Elective |
Spring Semester (15 credits)
| Course | credits | name |
| --- | --- | --- |
| SOCI 302 | 3 | Social Psychology |
| POSC 300 | 3 | American Political Economy |
| XXXX xxx | 3 | General Elective |
| XXXX xxx | 3 | General Elective |
| XXXX xxx | 3 | General Elective |
Fall Semester (15 credits)
| Course | credits | name |
| --- | --- | --- |
| SOSC 304 | 3 | Introduction to Public Administration |
| POSC 301 | 3 | U.S. Government |
| XXXX xxx | 3 | General Elective |
| XXXX xxx | 3 | General Elective |
| XXXX xxx | 3 | General Elective |
Spring Semester (15 credits)
| Course | credits | name |
| --- | --- | --- |
| SOSC 310 | 3 | Statistics |
| SOCI 403 | 3 | Race and Ethnicity |
| XXXX xxx | 3 | General Elective |
| XXXX xxx | 3 | General Elective |
| XXXX xxx | 3 | General Elective |
Fall Semester (15 credits)
| Course | credits | name |
| --- | --- | --- |
| SOSC 407 | 3 | Social Research |
| SOSC 340 | 3 | Nonprofit Leadership |
| XXXX xxx | 3 | General Elective |
| XXXX xxx | 3 | General Elective |
| XXXX xxx | 3 | General Elective |
Spring Semester (15 credits)
| Course | Credits | Name |
| --- | --- | --- |
| SOCI 411 | 3 | Special Topics |
| SOSC 430 | 3 | Social Science Applications |
| XXXX xxx | 3 | General Elective |
| XXXX xxx | 3 | General Elective |
| XXXX xxx | 3 | General Elective |