Polymer and Material Sciences
Degree Type
Master of Science
About
The world needs better solutions for the plastics and polymers polluting our bodies and environment—we're waiting on you to create them. 
Introduction
Created to bridge coursework with industry demand, this program seeks to accelerate research and technical innovation within manufacturing. Specifically, this program has an environmental focus on developing more efficient biodegradable polymers and plastics. Coursework covers comprehensive principles behind the design, synthesis, characterization and function of various materials, specifically those classified as biomaterials, bioplastics, blended fuels, nanomaterials, biomarkers and soft polymers.  
Graduates are well-positioned to fill talent gaps across a range of industries, including defense, automotive, aviation, medical technology, dentistry, and even sports apparel. Upon graduation, students can pursue careers in teaching and research at colleges and universities, government agencies and industries specializing in the operation and control of manufacturing processes, and in management or development positions in the materials-polymer industry.
Why earn a master's degree?
The U.S. Department of Labor's Bureau of Labor Statistics (BLS) estimates 18% of all jobs will require a master's degree by 2022. A master's degree can make it easier to transition into senior management and leadership positions and boost potential earnings. Over time, people with a master's degree earn 35% more than those with a just a bachelor's degree. 
Career Possibilities
Program graduates stand ready to fill critical needs for trained labor by government agencies and manufacturing companies including Lockheed Martin, Under Armour, Berry Plastics, NGK-Locke, Inc., Solvey, among others.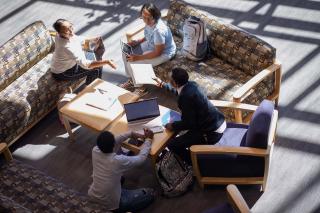 750+ Course Options
The Coppin State University Academic Catalog has a wide variety of skill-building courses designed to inspire and prepare you to be in-demand professionals and transformational leaders.
Admission requirements and process
To be considered for admission to the Master of Science in Polymer and Materials Sciences, submit or prepare for the following:  
Coppin State University online admission application and application fee 
2-page personal statement detailing your academic and professional qualifications, as well as your short and long term academic goals and professional careers goals for your chosen field of study. 

Official transcripts from each college or university attended 

3 letters of recommendation from a current employer, instructor, or other person who can speak to your character, integrity, and academic potential.  

Official English equivalency scores (for International Student applicants only) 

Curriculum vitae or resume (optional) 
Admission Consideration for Students with Non-Science Degrees
Students who have earned bachelors' degrees outside of the natural sciences may be considered for admission. However, we do expect students who hold a degree in biology or chemistry to have successfully completed these undergraduate courses: 
Calculus I 

Organic Chemistry I and II 

Physics I and II 
Graduate program requirements
To graduate with a Master of Science in Polymer and Materials Sciences, students must participate in and attend seminar-type discussions and complete 36 credit hours. These credit hours split among: 
Core courses (20 credits)

Electives (10 credits)

Thesis (6 credits) 
Core Courses
| course | credits | name |
| --- | --- | --- |
| CHEM 501 | 4 | Polymer Nanoparticles: Synthesis and Applications |
| CHEM 502 | 4 | Computational Chemistry |
| CHEM 531 | 4 | Foundations of Biomaterials |
| CHEM 571 | 4 | Thermodynamics of Polymer |
| CHEM 590 | 4 | Polymer Chemistry I |
Electives (10 credits)
| course | credits | name |
| --- | --- | --- |
| CHEM 510 | 2 | Advanced Instrumentation |
| CHEM 511 | 2 | Electrochemistry for Polymers and Materials |
| CHEM 591 | 4 | Advanced Polymer Chemistry |
| BIOL 507 | 4 | Biomarkers and Molecular Diagnostics |
Thesis Requirements
In addition to completing all coursework, all program students must submit a thesis to fulfill degree requirements. This first step is to write and submit a pre-thesis proposal to your advisor and thesis reader at the end of the spring semester of your first year. 
The final written thesis should be a scholarly investigation that reflects your advanced understanding of materials and/or polymer science principles learned in all previous program coursework and specialized research readings. 
Graduate Course Descriptions
Learn more about the courses part of the Master of Science in Polymer and Materials Sciences program. 
A course that explain, develop skills in cutting edge technology for polymer nanoparticle characterization and properties measurement utilizing state of the art tools for specific purposes.
Prerequisites
A course in Nanotechnology or
Advanced Inorganic Chemistry or
Organic Chemistry II
Exploration of contemporary technology used to access molecular modeling and computational chemistry with topics that include calculation of molecular structures using both classical mechanics and quantum mechanics. 
Prerequisites
A course that emphasizes topics related with solid/liquid/gel state matter; molecular 2D, 3D atomic assembly, macromolecules with dipolar and quadrupolar moment, synthesis/characterization of polymers its molecular mass. Analysis of hydrophobic effects, stretching, collapse, swelling and shape changing.
This course is intended to provide an overview of the thermodynamic principles that can apply to polymer characterization strategies leading to evaluation of material properties and possible applications for different classes of polymers (organic, inorganic) discovered previously or currently under development.
The course focuses on the properties of polymerization techniques in solution, emulsion, microemulsion and characterization and overview of the properties of commercial polymers with emphasis on the interrelations between molecular and gross physical properties; polymer structure; methods of polymerization; polymer development; and Industrial applications for polymers.
Prerequisites
Organic chemistry or equivalent and
Instructor permission
A course that explains the theory and operation of instruments used to characterize matter. This course is available to students in the advanced MS chemistry or material science programs. Prerequisite: Permission of the instructor.
Prerequisite
The Electrochemistry of polymers course is intended to provide an overview of the thermodynamic principles that can be applied for polymers characterization strategies that leads to evaluate its material properties and possible applications for different classes of polymers (organic, inorganic) discovered previously or currently under development.
This course studies the most common synthetic methods used in polymerization, the basic differences in the kinetics of these methods, the final products obtained, and the synthetic processing techniques that are currently used for various applications.
Prerequisites
Organic Chemistry and
Physical Chemistry
This course is designed to understand detailed biochemical, molecular and cell biological approached used in the diagnosis of various abnormalities in human population by using -Nucleic Acids, -protein, -carbohydrate and lipid –based biological markers. This course aims to cover the basic principles of molecular biology and examine their relevance to the identification of disease-causing genes/mutations and the diagnosis of human genetic disorders. 
Prerequisites
An independent, original, and scholarly research investigation is required for an M.S. Degree in Polymer and Materials Sciences. The thesis must be written using APA format. Prior to conducting the thesis work, a proposal must be submitted to the Polymer and Materials Sciences program Office using forms specified by the school of graduate studies.
The proposal will then be reviewed by the student's research advisor(s) and the faculty reader. A candidacy exam of the thesis proposal will be administered in the fall of the second year of the program. The graduate program coordinator will then and submit his/her recommendation to the Chair of the natural sciences department, the Dean of the graduate studies for approval.
Study Plan
To graduate, each student must complete a minimum of 36 credits, including any transfer credits. Students must meet with the department chair or program director for advice and periodical evaluation of student's progress towards the completion of courses for graduation.
Fall Semester (12 credits)
| Course | credits | name |
| --- | --- | --- |
| CHEM 590 | 4 | Polymer Chemistry I |
| CHEM 502 | 4 | Computational Chemistry |
| CHEM 571 | 4 | Thermodynamics of Polymer |
Spring Semester (12 credits)
| course | credits | name |
| --- | --- | --- |
| CHEM 501 | 4 | Polymer Nanoparticles: Synthesis and Application |
| CHEM 531 | 4 | Foundation of Biomaterials |
| CHEM 591 | 4 | Advanced Polymer Chemistry |
Fall Semester (8 credits)
| Course | credits | name |
| --- | --- | --- |
| CHEM 510 | 2 | Advanced Instrumentation |
| CHEM 511 | 2 | Electrochemistry for Polymer and Materials |
| BIOL 507 | 4 | Biomarkers and Molecular Diagnostics |
Spring Semester (6 credits)
| Course | credits | name |
| --- | --- | --- |
| CHEM 550 | 6 | Thesis |
Related Natural Science Programs
Applied Molecular Biology and Biochemistry