Degree Type
Graduate Certificate
About
Be more than the badge—get the skills you need to be better and do better.
Introduction
Advance Your Criminal Justice Career
Some cultures and communities never know the experience of fair and balanced policing and law enforcement. With so many systemic inequities coming to light, demands on police officers, supervisors, and commanders are increasing.
Learn how you can inform and practice policing strategies that build communities instead of breaking them down. We designed this certificate to build on practical and theoretical criminal justice education.
Apply these certificate courses to our Master of Science in Criminal Justice!
Here's what you'll learn:
Community relationship-building
Communications
Diversity and interpersonal skills
Effective enforcement strategies
Crime analysis
Responsibilities related to terrorism and homeland security
Recent developments in constitutional law and criminal procedure
Leadership and management
Strategic decision-making as well as data and intelligence analysis in administrative, operational, and tactical situations
Who Should Apply
This program is for anyone currently employed in the criminal justice system who wants to advance your skills and career. Because this certificate enhances professional preparedness and speaks to increasing demands on people within these fields, we encourage prospective and current police officers, supervisors, commanders, and any other criminal justice professionals to apply.
Certificate Requirements
To graduate with an graduate Certificate in Policing Strategies, students must complete 18 credit hours:
Core Courses (18 credits)
| Course | Credits | Name |
| --- | --- | --- |
| CRJU 533 | 3 | The Dynamics of Police Community Relationships |
| CRJU 534 | 3 | Terrorism and Homeland Security |
| CRJU 535 | 3 | Compstat, Crime Analysis, Mapping and Strategic-Oriented Policing |
| CRJU 536 | 3 | Intelligence-Led Policing and Intelligence Analysis |
| CRJU 525 | 3 | Criminal Procedure |
| CRJU 564 | 3 | Criminal Justice Management |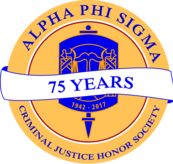 Alpha Phi Sigma
Coppin's chapter of the nationally recognized Criminal Justice Honor Society, Alpha Phi Sigma, welcomes undergraduate and graduate students studying criminal justice, criminology, or a related field.