Minor in Nonprofit Management and Youth Development
About
Put your advocacy to work—channel your passions to address issues that matter to you.
Introduction
Why minor in nonprofit management and youth development?
The nonprofit management and youth development minor is open to any Coppin student, regardless of major. With an interdisciplinary focus, the minor incorporates faculty and coursework from multiple disciplines, including sociology, social sciences, fundraising, youth development, and management.
Students in this minor can also take advantage of outreach and field opportunities. Upon completion of the minor, students are eligible to become a Certified Nonprofit Professional (CNP), the only national certification of its kind, and offered by the industry-standard setting Nonprofit Leadership Alliance.
You can also major in Nonprofit Leadership.
Nonprofit Leadership Alliance Club
Coppin continues to maintain its longstanding legacy of community development and service. The Nonprofit Leadership Alliance club contributes to these efforts by providing venues and opportunities where students and graduates improve issues that directly affect our local, urban communities and the world at large.
Minor Requirements
To graduate with a minor in nonprofit management and youth development, students must complete 21 credit hours with a grade of "C' or better in each minor course:
| COURSE | CREDITS | NAME |
| --- | --- | --- |
| SOSC 304 | 3 | Introduction to Public Administration |
| SOCI 340 | 3 | Introduction to Nonprofit Leadership |
| MGMT 460 | 3 | Not-For-Profit Management |
| NPLS 400 | 3 | Diversity, Philanthropy, and Fundraising |
| MGMT 360 | 3 | Human Relations and Organizational Behavior |
| SOCI 409 | 3 | Nonprofit Leadership Internship I |
| MNSC 483 | 3 | Co-op Field Placement (Internship II) |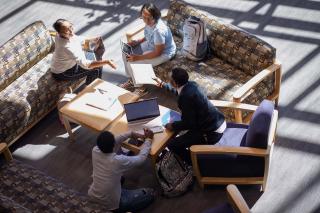 750+ Course Options
The Coppin State University Academic Catalog has a wide variety of skill-building courses designed to inspire and prepare you to be in-demand professionals and transformational leaders.