About
Learn from classic and contemporary stories to gain the skills you need to write your own way.
Introduction
Why minor in English?
Writing and analytical skills never go out of style, and are always in demand. Broaden your perspective—and your skills—with 18 credits across literary, language, sociolinguistics, and a wealth of other advanced electives. 
You can also major in English.
Minor Requirements
To graduate with a minor in English, students must complete 18 credit hours with a grade of "C' or better in each minor course:
Course
Credits
Name
ENGL 210
3
Literary Genres

ENGL 301

or

ENGL 302

3

 

3

The Nature of Language

or

Sociolinguistics 

ENGL 3xx and 4xx
12
Level 300 and 400 Electives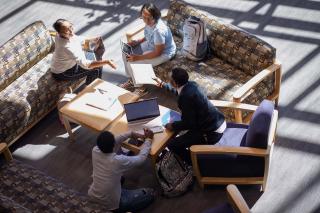 750+ Course Options
The Coppin State University Academic Catalog has a wide variety of skill-building courses designed to inspire and prepare you to be in-demand professionals and transformational leaders.