About
You want to travel the world—start with our Global Studies degree to get there. 
Introduction
Why minor in Global Studies?
The Global Studies program has several key objectives that inform learning outcomes:  
To redefine the United States as a member of the world community, rather than a singularly major power
To expose students to similarities and differences among global cultures
To provide experiences that broaden students' ideas, knowledge, and perspective about international events and global issues 
Coursework in history, political science, economics, literature, and sociology create a strong foundation in critical analysis for you to develop and challenge new ideas. You'll also have access to lectures, workshops, field experiences, and travel-abroad programs designed to foster learning opportunities well beyond the classroom.  
You can also major in Global Studies.
Minor Requirements
In additional to minor courses, lectures and workshops on important international themes and topics are crucial to gaining a foundational understanding of global trends. To satisfy minor requirements, you must earn a grade of C or better in each of the minor courses: 
| Course |   | Name |
| --- | --- | --- |
| GEOG 102 |   | World Regional Geography |
| WLIT 203 |   | World Literature I |
|   | OR |   |
| WLIT 204 |   | World Literature II |
| SOCI 201 |   | Introduction to Sociology |
| POSC 303 |   | Comparative Government |
| ECON 402 |   | Comparative Economic Systems |
| PHIL 414 |   | Social and Political Philosophy |
|   | AND |   |
| HIST 451 |   | Seminar in Global Studies  |
Study Abroad Opportunities
We encourage students studying Global Studies to broaden their global thoughts and perspectives through field experiences and/or study abroad trips to foreign nations. Any students interested in travel study should reach out to the Study Abroad Coordinator to learn more about the structured and academically meaningfully experiences of traveling and studying in another country.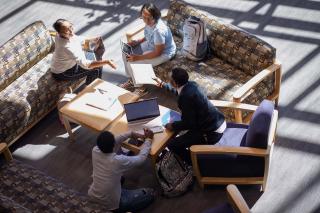 750+ Course Options
The Coppin State University Academic Catalog has a wide variety of skill-building courses designed to inspire and prepare you to be in-demand professionals and transformational leaders.