Degree Type
Bachelor of Science
About
Doctors, nurses, and other medical practitioners need people like you who focus on improving community health at local, national, and global levels.
Learn how to:
Apply concepts from humanities, natural and behavioral sciences to practice in community-based settings
Apply leadership skills, concepts, and decision-making abilities throughout various professional settings
Make evidence-based decisions for treatment of individuals, families, and groups
Show proficiency in health sciences, health promotion, and community health literacy
Illustrate knowledge of health services policy and regulations to help individuals, families, and groups identify and mobilize resources to meet health needs
Collaborate with consumers, health community members, and others to improve delivery of health services 
Integrate health sciences, health promotion, and community health education strategies for individuals, families, and groups to improve health outcomes
Translate professional, ethical, and legal responsibility within a variety of settings
Apply health principles to practice with culturally diverse consumers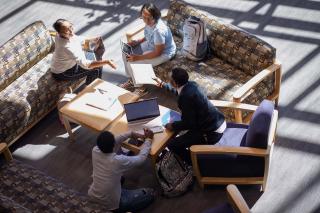 750+ Course Options
The Coppin State University Academic Catalog has a wide variety of skill-building courses designed to inspire and prepare you to be in-demand professionals and transformational leaders.
Our Health Sciences program prepares students for a wealth of careers within the healthcare industry. With courses in anatomy, physiology, medical terminology, statistics, among other topics, our students get the scientific training necessary to face some of our biggest health challenges. Students can enter the healthcare workforce with a Health Sciences degree. This degree also sets students up to succeed in advanced study in medical or graduate school.
There is more information about major requirements in the Program Requirements section on this page.
Where can a degree in Health Sciences take you?
Health and medicine topics can be hard to understand for people without a medical degree. With a degree in health sciences, you have career opportunities to educate, advocate, and make health and medicine more accessible to communities around the globe.
Admission Requirements
Admission requirements may vary depending on your student journey. Review the information below, then determine which classification best matches your admission needs.
Current Students
Any student interested in declaring as a Health Sciences major must have at least a 2.5 cumulative grade point average (GPA). 
Prospective Students
First-time students should apply online through the Office of Admissions. When you complete the application, be sure to indicate Health Sciences as your major. 
Transfer Students
Students transferring from another institution must submit official transcripts from each college or university attended. Check out our resource section for transfer students for more information. 
International Students
For students who have completed any education in a college or university outside of the U.S or related territory, be sure to submit a course-by-course evaluation. Go to our resource section for international students to learn more about foreign credit evaluation. 
Program Requirements
To graduate with a Bachelor of Science in Health Sciences, students must complete 120 credit hours. These credit hours split among General Education Requirements (GERs), course prerequisites, and major courses. Expand each section below to see the range of course offerings.
General Education Requirements (GERs)
Students must complete all required GER credits. Specifically for Health Sciences majors, your program plan should also include:
GER Requirement
Course options
Mathematics
MATH 110 College Algebra
Behavioral and Social Science

ECON 103: Introduction to Business and Entrepreneurial Economics

and

SOCI 201: Introduction to Sociology

Natural Sciences

BIOL 107: Comprehensive Preview of Life Sciences or BIOL 201: Human Anatomy and Physiology I

and

CHEM 101: General Chemistry or CHEM 103: Chemistry for Health Sciences

Interdisciplinary and Emerging Issues

SPCH 105: Introduction to Speech or SPCH 202: Principles and Practices of Interviewing or SPCH 204: Critical Listening 

and

HEED 105: Emerging Issues in Mental Health and Well-being
Core Courses (19 credits)
| Course | Credits | Name |
| --- | --- | --- |
| HSC 101 | 3 | Orientation to Health Sciences |
| HSC 190 | 3 | Medical Terminology |
| BIOL 203 | 4 | Human Anatomy and Physiology II |
| HSC 312 | 3 | Pathophysiology |
| HSC 313 | 3 | Pharmacology |
| MATH 203 | 3 | Basic Statistics |

 
Sample Degree Plan
Be sure to connect with your academic advisor to plan your semester courses. The plan below is just an example—your journey may have different requirements.  
Fall Semester (15 credits)
| Course | credits | name |
| --- | --- | --- |
| ENGL 101 | 3 | English Composition I |
| MATH 110 | 3 | College Algebra |
| PHIL 10X | 3 | Introduction to Logic or Introduction to Philosophy |
| HIST 20X | 3 | World History I or U.S. History I or African-American History I |
| HSC 101 | 3 | Orientation to Health Science |
Spring Semester (17 credits)
| course | credits | name |
| --- | --- | --- |
| ENGL 102 | 3 | English Composition II |
| HIST 20X | 3 | World History II or U.S. History II or African-American History II |
| HSC 190 | 3 | Medical Terminology |
| BIOL 107 | 4 | Comprehensive Preview of Life Sciences |
| CHEM 10X | 4 | General Chemistry or Chemistry for Health Sciences |
|   |   |   |
Fall Semester (16 credits)
| Course | credits | name |
| --- | --- | --- |
| SPCH XXX | 3 | Speech Communications or Basic Principles of Oral Interpretation or Principles and Practices of Interviewing or Critical Listening |
| BIOL 201 | 4 | Human Anatomy and Physiology I |
| SOCI 201 | 3 | Introduction to Sociology |
| WLIT 207 or ENG 2XX | 3 | World Literature or any 200-level English |
| HEED 105 | 3 | Emerging Issues in Mental Health and Well-Being |
Spring Semester (16 credits)
| Course | credits | name |
| --- | --- | --- |
| MATH 203 | 3 | Statistics |
| BIOL 203 | 4 | Human Anatomy and Physiology II |
| ECON 103 | 3 | Introduction to Business and Entrepreneurial Economy |
| IDIS 10X | 3 | IDIS 102 or IDIS 103 or Foreign Language or ART 105 or MUSIC 201 or THEA 211 or DANC 226 |
| XXXX xxx | 3 | General Elective |
Fall Semester (15 credits)
| Course | credits | name |
| --- | --- | --- |
| HEED 300 | 3 | Health Education and Health Promotion |
| HEED 303 | 3 | Health and Urban Studies |
| HSC 210 | 3 | Health Informatics (includes higher level writing/APA) |
| HSC 213 | 3 | Principles and Practices of Nutrition |
| HSC 312 | 3 | Pathophysiology |
Spring Semester (15 credits)
| Course | credits | name |
| --- | --- | --- |
| HEED 305 | 3 | Introduction to Health Science Research |
| HSC 306 | 3 | Health and the Older Adult |
| HSC 310 | 3 | Human Disease, Prevention, and Control |
| HSC 313 | 3 | Pharmacology |
| HSC 320 | 3 | Healthcare Delivery System |
Fall Semester (14 credits)
| Course | credits | name |
| --- | --- | --- |
| HEED 420 | 3 | Community Health |
| HIM 415 | 3 | Health Statistics and Research  |
| HSC 404 | 3 | Ethics for Health Professionals |
| HSC 421 | 3 | Tests and Measurements |
| HSC 426 | 2 | Contemporary Issues in Healthcare |
Spring Semester (12 credits)
| Course | Credits | Name |
| --- | --- | --- |
| HSC 405 | 3 | Epidemiology |
| HEED 406 | 3 | Healthcare Leadership and Policy |
| HEED 410 | 3 | Global Health |
| HEED 425 | 3 | Field Experience |
Related Health Programs
Health Information Management